Do you want to know how the Instagram bot Inflact (formerly Ingramer) works, to increase followers and interactions on your Profile? Are you looking for reviews and opinions on Inflact or a coupon to get a discount on the purchase? You have come to the right place!
The world of automation and growth on Instagram has been evolving for several years now. Inflact is currently the number one service in this sector and is enjoying enormous success thanks to its power and multifunctionality.
In this Inflact review, we will present the Instagram bot modules one by one, each of which can be purchased separately and offers several exciting functions. We will also see the prices and operation of Inflact, the procedure for registering, and the surprising growth results that can be obtained thanks to the bot.
Add a header to begin generating the table of contents
Working Principle of Inflact
Inflact is the latest generation Instagram bot, which has proven to be one of the most powerful and reliable for your Profile's growth, promotion, and automation. It has firmly held the top position in our ranking of the best Instagram bots for a long time now.
It was born with the name of Ingramer, which has recently been changed to Inflact, precisely due to the desire of the team of developers behind the project to expand into other sectors outside of Instagram Marketing.

In particular, it is a web-based bot, i.e., accessible directly from the browser, without the need to download any software on your device. Once set, Inflact will continue to work in the cloud, even when your PC is off.
This Instagram bot has already been used with satisfaction by over 50,000 users, including influencers, companies, freelancers, and digital entrepreneurs. The growth that can usually be obtained thanks to Inflact is between 1000 and 3000 followers per month. Still, the benefits also extend to an increase in engagement, the organic reach of your content, and sales (if, for instance, you are the owner of an e-commerce).
Other strengths of Inflact are the security of the platform, the speed in its adaptation to the changes that occur in the Instagram algorithm, and the high-level customer service, always ready to answer any doubts and solve any problems encountered by customers.
We continue this review of Inflact with a description of the different modules it is composed of. Each of them can also be purchased separately and offers various features to users who use it. The modules are currently 7, and we will see them one by one below.
Promo
The promo module is Inflact's flagship package. Thanks to its use, you can promote your Instagram account to increase the number of followers and the engagement you receive on your content (likes, interactions, and comments).
In particular, through the promo module, you can perform the following operations automatically: follow, unfollow, like the posts of new users, like the posts of users you already follow, and massive viewing of stories.
You can carefully choose the audience to interact with, targeting only the users of your niche of interest. In this sense, Inflact offers advanced targeting filters based on hashtags, geolocation, and profiles of other users.
As already highlighted above, the use of the Inflact promo module alone allows you to increase from 1000 to 3000 followers per month, triple the organic reach of the contents, and significantly increase the engagement received on stories and posts.
Direct
The direct module is dedicated to the management of direct messages (DM) on Instagram. It is beneficial to automate chats with your contacts, provide automatic replies, and send promotional messages to many contacts.
First of all, if you subscribe to this form, Inflact provides you with a convenient dashboard, from which you can manage all chats directly from your computer, categorize conversations with "labels," and enter additional information for each of your contacts. This way, you can turn your Instagram into an actual customer database.
Furthermore, you can use Inflact's direct module as if it were a chatbot, able to send automatic welcome messages to your new followers, give automatic replies to specific requests, and do customer service for you.
Finally, the most exciting function of the direct module is the ability to automatically send promotional messages to a large number of contacts to sell your products or services or reminders and information to contacts who had previously interacted with you. Almost like you would through an email newsletter.
Scheduled Posting
The scheduled posting module allows you to perform all the planning and automatic publication of content on your Instagram account. This is very useful for those who manage many profiles or those who work with Instagram professionally and do not want to waste time manually publishing photos, videos, stories, and carousels.
With the scheduled posting package, you can upload all content in advance, complete with tags, descriptions, and location. Inflact will take care of publishing them at the date and time you have established, giving you access to the preview of your feed at any time. Convenient!
Furthermore, by scheduling the publication of content when your followers are most active, you will be able to obtain greater engagement.
Hashtag Generator
Another crucial module is the Hashtag Generator just like Metahashtag. Its function is essential to help you find the best hashtags to use for each content you publish to increase your posts' reach, engagement, and virality. 
With the Hashtag Generator, you can find the hashtags suitable for your posts in 3 different ways:
Starting from a keyword

: in this case, the software will find the most frequently used hashtags related to that keyword.

Starting from an image

: you can upload a photo, and the software, through its artificial intelligence, will try to suggest the most suitable hashtags for it.

Starting from a URL

: in this third case, you will have to insert your content link to get suggestions on the best hashtags to use.
The use of this tool has led in many cases (if you want to know more about hashtags and it's statistics, you can find in SM90 blog) to an exponential increase in interactions on the Instagram profile, which is why I recommend that you test it at least once to verify its effects. You can do it for free on the Inflact website.
Instagram Downloader
In the "tools" section that you find on the Inflact homepage, you can access other less known but still exciting tools. There is, for example, the Instagram Downloader, which allows you to download content from Instagram.
It is not possible to download photos, videos, stories, and information from one or more profiles through the Instagram app. All this, however, is made possible by the Inflact Instagram Downloader, thanks to which you can download:
Photo
Video
Profiles
Stories
IGTV
Overall, this is a unique tool through which to download all Instagram content.
Inflact Profiles
Another module that you can find in the Tools section is called Profiles. In turn, it is composed of several features that serve to obtain valuable information about your competitors, about the influencers of your niche, or about other users you want to observe.
The first of them is the Profile Analyzer. It is a free tool that allows you to analyze in detail an Instagram profile, obtaining essential statistics. The analysis can take up to 30 seconds, after which you will immediately have info on followers, uploads, engagement, and user activity.
The Search function is also free and allows you to filter Instagram accounts according to particular keywords, usernames, number of followers and posts, or even gender and category of belonging.
The third function is the Story Viewer: it allows you to anonymously view and download the Instagram stories of any public profile. It's free for stories from the last 24 hours, while older ones have a 3-day trial at the cost of $ 1.
The last module in this section is the Viewer for Instagram. This is a helpful tool if you don't have an Instagram account or have been blocked. It allows you to view the content and information of any public profile on Instagram.
Fonts Generator
We conclude the features and the Tools section of Inflact with Fonts Generator, another completely free tool.
It gives you access to more than 80 eye-catching fonts, which you can use in your bio, comments, or description of your social media posts. You can get inspiration from the CEO of Mojomox for the best fonts pick. 
The software is structured in such a way as to show you a preview of how the selected font will also appear in relation to the Instagram bio, allowing you to understand at a glance whether you like it or not. Using an original font can be of great help to stand out on Instagram!
How to register for Inflact
The procedure for registering for free to Inflact is effortless. Just go to the homepage, and click on the button at the top right that says "Get Started." You will be directed to the following registration form:
At this point, you need to enter your email, password, and password confirmation. Click on "sign up" to proceed. You will receive an email on the email address you entered, through which you can verify your account.
At this point, your Inflact account is active. You can access the dashboard, add your Instagram profiles (you will need to provide their username and password), and proceed with the eventual purchase of the packages of your interest.
Furthermore, for this Instagram bot to work regularly, safely, and at the maximum possible speed, I recommend that you purchase a VPN, provided by Ingramer himself and available by clicking on the relative tab.
Basically, through a VPN, you will have a dedicated IP address through which the Ingramer web app can work without interference and in complete safety. This is ideal for avoiding Instagram blocks or penalties.
If you want to buy your own proxy, then check out our proxy reviews to find the best and cheapest proxies for social media's.
Inflact – a guide on how the promo package works
In this section of the article, we will examine how the Inflact promo package works, which is the flagship module of the Instagram bot.
After connecting the account and making the payment, you will first need to choose the target users to interact with. You have three options available:
Hashtag: in this case, Inflact will make your Profile interact with users who have recently used one or more specific hashtags indicated by you.
Geographical location: Inflact will direct the promotion of your account to users who live or have tagged themselves in a specific city or place.
Username: in this third case, you will interact with the followers of a specific account, which could, for example, be your competitor from whom you want to "steal" the followers.
If you need to target even more precisely, or if you want to further maximize the effectiveness of Inflact, in the section called Pro Filters, you can set the following configurations:
Gender

: Decide whether to interact with men, women, or both.

Languages

: choose the languages ​​spoken by the users you want to interact with.

Stories

: Decide whether to view the stories of those you already follow.

Black list

: create a list of profiles with which you do not want the bot to interact.

Likes

: you decide whether to like the posts of your Instagram feed (and comments) or to put them only to external users, who you do not follow and who do not follow you.

Unfollowing

: you can choose to unfollow 1) all profiles, 2) all profiles that do not follow you, 3) new followers from the Inflact action, 4) new followers from the Inflact action that you don't follow.

Timezone

: enter your time zone. Inflact will use it to interrupt actions during the night, resulting in human-like behavior.

Likes per Profile

: set the number of likes to put on each Profile followed.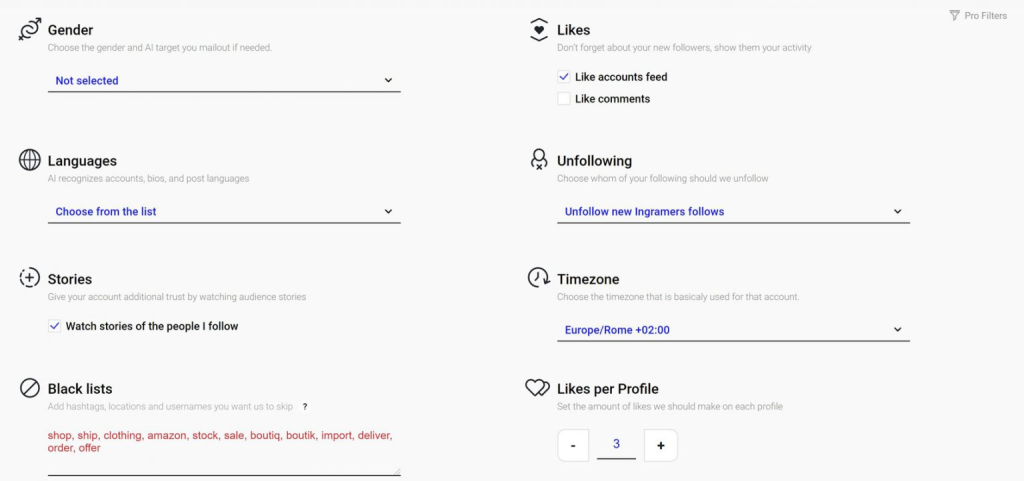 Once you have established your target, click on the play button to activate the Instagram bot. After a few days, you will be able to view the graphs with the statistics, which will give you an overview of the activity carried out by Inflact and the results achieved.
NB Given the current restrictions of Instagram, it is good that you know that in the first weeks, the bot will start in safe mode in order not to arouse suspicion and not to incur possible blocking of the functionality by Instagram.
Subsequently, the promotion speed will be progressively increased until it reaches normal values, thus allowing you to take advantage of the full power of Inflact.
Pricing Plan
Below you will find an overview of the cost of the individual Inflact modules. Of course, you can also decide to buy Customize or Choose a pack more than one Instagram account.
Payment can be made via PayPal or debit/credit card. 
Let's see the pricing in detail below for monthly subscription
Let's proceed with some opinions on Inflact. This tool has a rating of 4.4 out of 5 on SiteJabber, an international review site. Over 90% of users who have tried it and continue to use it consider the service "exceptional" or "very good."
Inflact

Trustpilot

Trustradius

G2

Capterra

No. of Reviews

-

-

27

-

Rating

4.4 / 5

-

-

4.5 / 5

Average Rating: 4.4

VISIT Inflact OFFICIAL SITE
The individual user reviews are incredibly positive. The customer service, the free features of the bot, and even the paid ones are praised, which allow you to quickly increase your followers on Instagram and better manage your Profile.
For our part, we confirm the validity of Inflact, which in our opinion, represents the best Instagram bot of 2021: the most powerful, the most complete, and also the safest.
What is Inflact?
Inflact is possibly the best Instagram bot of 2021. It allows you to increase followers, likes, comments, and interactions with your profile and schedule posts, spy on Instagram stories, choose the right hashtags, and much more.
What are the main Inflact modules?
The Inflact modules are seven, each offering different features: Promo, Direct, Posting, Downloader, Hashtag Generator, Stories Viewer, and Instagram Search.
What are the main alternatives to Inflact?
The best alternatives to Inflact are Instagrow (an organic growth service on Instagram) and FollowAdder (a very powerful bot, which but must be installed on your pc). For more information, I invite you to read our comparative article on the best Instagram bots.
How much does Inflact cost?
All Inflact packages have a bi-weekly, monthly, or quarterly subscription and price depends on the specific product you are interested to. For example, you can subscribe to the promo package, which includes all features and it is the most complete to grow on Instagram, starting from just 32 euros.
That's all we can cover today, but we hope you have enough information about Inflact to choose the Instagram service that's right for you. If you're interested in learning more about Instagram's bot Services, you've come to the right place. There is no justification for avoiding Best Top 10 Instagram bots. So, let's all get caught up in the next great review. Stay tuned for updates until then! Many thanks for reading this and best wishes!