As a writer or internet marketer, you surely wished for a tool to help you craft compelling and engaging content in a fraction of the time it would typically take.
As you know, we have been testing several AI writing tools in the past months, and recently, we gave a try to one of the newest market entries: Shopia. 
And of course, we're going to crack that information with you in this blog review. 
So what can you expect from this review? In this blog post, we'll explore both the benefits and drawbacks of Shopia AI and whether they are worth the investment. 
So without further ado, let's start the review!
Add a header to begin generating the table of contents
Shopia is a company based in London, UK, who launched its AI writing service in march 2022.
Despite its recent launch, Shopia is a powerful AI-powered copywriting and SEO assistant which brings some revolutionary features in the AI writing niche. 
With just a few lines of text, Shopia.ai can generate compelling product descriptions, ad copies, full blog articles, and much more.
But let's see how it works and its features more in detail.
How to Set Up Shopia And Use It For Free?
Here's a step-by-step guide on how to set up and get started with Shopia.
Step 1: Register: if you want to test or explore more about Shopia AI, you can sign up for the same. Since Shopia AI has a Free 7-day trial, you can try its feature before buying. (Note: Credit card details are not needed)
Step 2: Explore the Dashboard: Once you have registered, it will redirect to the dashboard, where you can explore their features. Also, you should check the reward section to get more free credits to use on Shopia. We will talk about that later again.
Step 3: Try the services available: choose the template or the service you want to work on and follow the steps as instructed by Shopia to generate engaging content.
Upon signing up for either a free or paid account, you will be greeted with a user-friendly dashboard that provides easy access to all the features available.
At the top of the dashboard, you will find a tab that displays your most recent documents, making it simple for you to navigate to the generated content you need.
This is where the game begins. Recently, Shopia updated its appearance, and all the AI writing features come under the same section. Check the screengrab below.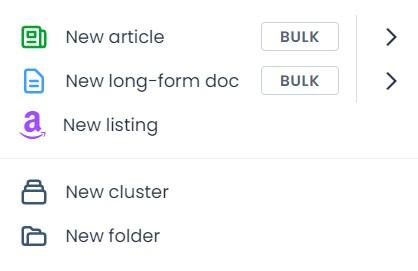 Under these sections, you can explore different tools.
Article:

Step-By-Step Article, Article Rewriter, and Blank Article. It also features bulk mode.

Long-form Doc:

Select from 80+ writers (These are short-form blocks where you can access 80+ tools for E-commerce, Ads, Social Media, Business, Email and so on).

Listing:

You can create a complete SEO-driven product listing description for Amazon.

Cluster: Selecting a relevant topic and creating a list of top keywords to expand reach and capture more search engine traffic. Creating articles for each keyword provides valuable information and increases the chances of ranking higher in search results. Analyzing competitors' keywords is an effective way to identify relevant and high-volume keywords. Uploading a list of Keywords (up to 50) can generate a bulk of SEO-Optimized articles.
New Folders:

You can create folders to save and organize your work.
Let's see Article Bulk in detail now, as it is one of the most interesting features. In this case, we have chosen to use a Step-By-Step Article.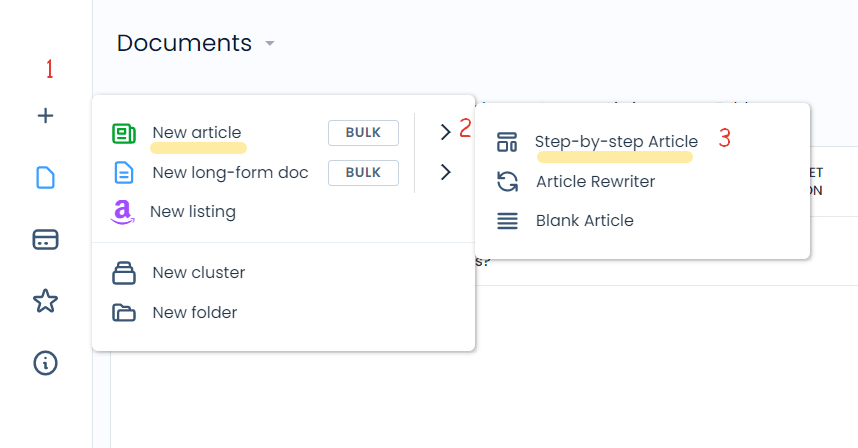 To begin, select the article type you will write about.
We have selected the "General" template. 
Once you have chosen this template, fill in the required details. 
Remember that the output will be of higher quality if your inputs are clear and precise.
Once done, click on "Next: Title." From there, you have the option to either choose your own title or select one from the "AI suggested titles." 
Additionally, you can check "Top Google Results" to get an idea of high-traffic and top-ranking titles. 
We have chosen our own title, "The Benefits of Investing in SEO for Your Business."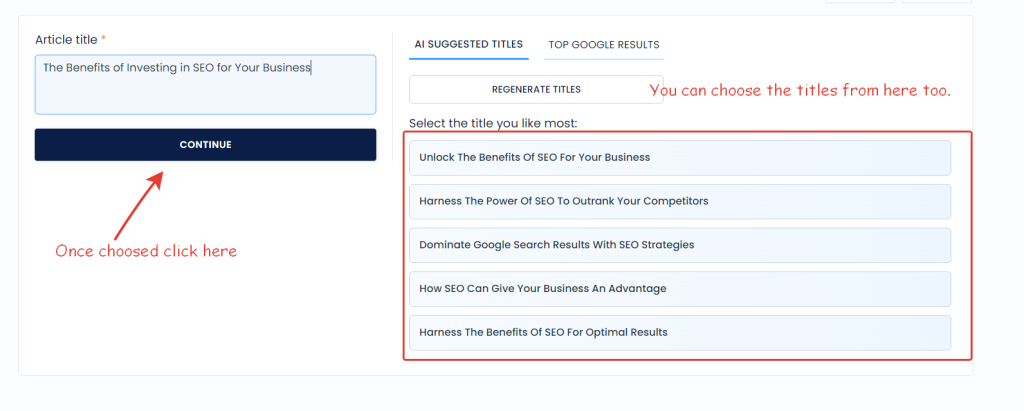 The next step is creating an outline for your content. Shopia AI will suggest an outline; if you want to add your headings, you can do it simultaneously. 
If you're willing to add the AI suggested outline, either click on "Add all," or if you want to add specific headings, you can simply click on them. 
We believe the best method – to get high quality and accurate articles – is to select specific headlines from the AI suggested ones, and then manually add new ones or edit the existing ones. 
Manual editing takes a few seconds and will result in better articles.
In this example though, we simply clicked on "add all". That's, it's time to generate the article. 
Hit on "Generate Article," and within 2 minutes, a complete article will be generated. 
You can also already add a featured image from the given suggestions.
Check out the below image carousel. This is the generated article, which is of 1500+ words, and of good quality!
This is the procedure for all the templates; slight differences in the steps will exist depending on your chosen template. For example, if you choose Listicle, you need to select the type of the Listicle as an extra step.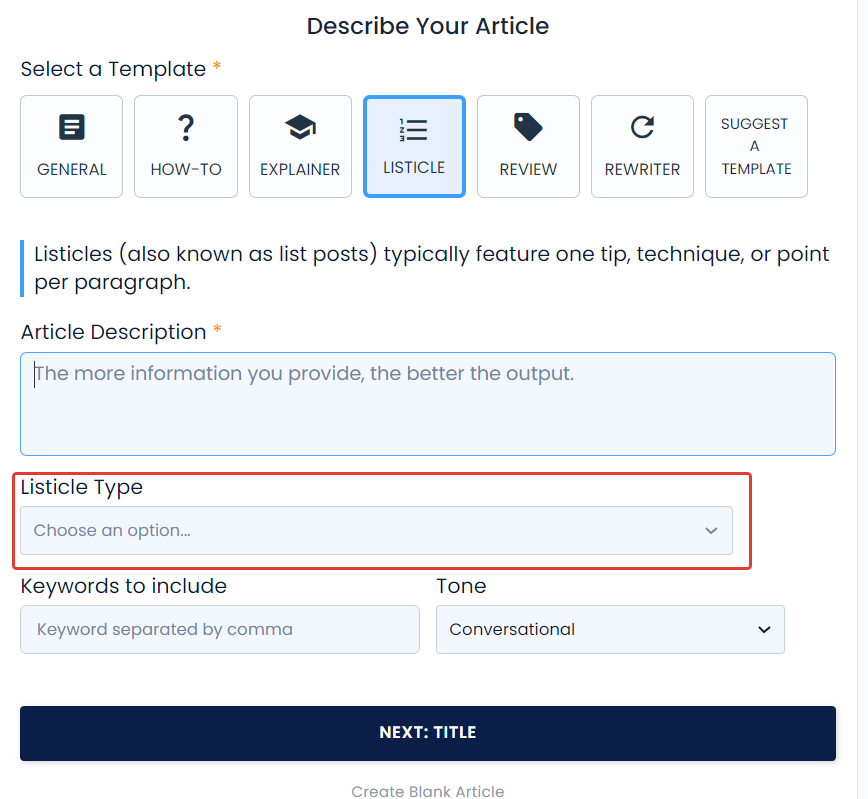 Also, if it's about Review, You need to input data to "Product(s) to review, criteria to cover."
Overall, we believe that the Article writer is the best feature of Shopia and a blessing for those looking to generate different types of articles, rather than just a classic blog post.
In this section, you can input an article URL and click on "Import" to have it rewritten automatically, or you can paste the content you want to rewrite. 
Keep in mind that there is a 10,000-character limit for the inputted content. Once you have added your content, click on "Analyze and Continue."
Consider that this tool does not "spin" your article with synonyms, but rewrites a brand new one based on the meaning and topic of the given article.
Additionally, Shopia AI has the option to suggest a template that can eventually be added to your dashboard. Just enter the form and send it to the support team for approval.
Let's have a look at Shopia's Cluster. Below, the main features. 
By Topic: Selecting a relevant topic and creating a list of top keywords can expand your reach and capture more search engine traffic. Creating an article for each keyword provides valuable information and increases the chances of ranking higher in search results.
To start, brainstorm a list of top keywords related to the given topic. Then, you may proceed by creating a set of articles covering the provided keywords, to get more traffic and leads to your website.
By Website: Also a

nalyzing competitors' keywords is an effective way to identify relevant and high-volume keywords. This strategy can help improve your website's SEO, attract more traffic and "steal" leads from your competitors.

Upload:

You can also upload a list of Keywords (up to 50) to generate a bulk of SEO-Optimized articles.
Integration (Connections)
By integrating/Connecting your preferred software with Shopia AI, you can streamline most of your social sharing and blogging workflows through automation.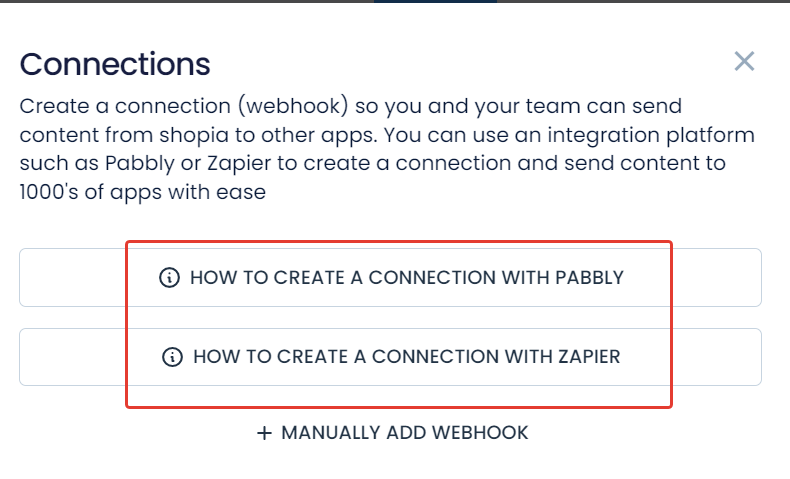 With Shopia, you have the ability to seamlessly send content to other applications through the creation of a webhook connection. 
Utilizing popular integration platforms like Pabbly or Zapier makes the process of connecting to thousands of apps simple and effortless.
Reward Section (earn up to 300 free articles)
Are you new to Shopia and eager to test out all its exciting features, but worried about running out of credits? 
Don't worry, because Shopia has a lot of free credits waiting for you via their Reward section! 
This section offers six different ways to earn credits, giving you the chance to get a relevant amount of extra credits, without worrying about running out of funds. Let's have a look at them.
Review & Earn –

You can start by writing a unique and engaging review on G2 or Capterra (30,000 words credit each) or Trustpilot (20,000 words). Once your review is approved, you'll receive the credits on your Shopia account. 
Share on social media

– You can also earn credits by sharing Shopia.ai on social media platforms like LinkedIn (10,000 words credit) and Twitter (10,000 words).
Create Videos –

By creating a short video, you may get 15,000 words of additional credit. Simply showcase what you love about Shopia or how to use it. Or, by sharing an honest video review about the Shopia platform (45,000 words).
Create Long-form Content

– If you enjoy writing, you can help Shopia by creating long-form content such as a case study (earn 75,000 words) or a comparison page of Shopia versus other AI writers (50,000 words), and earn free credits for your efforts.

 

Share & Earn –

And if you have friends who are interested in using Shopia, you can recommend it to them and earn up to 20,000 words!

 

Affiliate –

Finally, It's time for affiliates! If you're interested in partnering with Shopia, you can become an affiliate and earn a 30% lifetime commission from the Shopia sales, every time you send them a customer. In this case, you will be earning real money and not word credits.
With these reward options, Shopia makes it easy and fun for you to get a lot of extra credits and experience its benefits.
In fact, considering all the rewards combined, you can earn up to a whooping 300,000 words per account!
If we think of an average article being 1000 words, that means you can generate 300 articles for free.
Shopia AI offers three different pricing plans to meet the needs of businesses of all sizes. These are the Standard, Pro, and Enterprise plans, and each comes with a 7-day free trial.
The Standard plan costs $8 monthly and is ideal for SEO article writers who need essential social media writing tools.
The Pro plan, priced at $18 per month, offers advanced features like a Bulk generator, One-click articles, 5000+ Integrations, and everything included in the Standard plan. 
The Enterprise plan is designed for large corporations with complex social media needs. It includes all of the features of the Pro plan, Custom Al for your brand voice, a Dedicated customer success manager, and more.
Check the below pricing table for more info.
Standard
Access to all AI templates, content planner & our SEO article writer.

____________________________

Includes :

Write & Translate 30+ Languages
PRO
For small business – Work in teams & organise client's content

____________________________

Includes :

Priority support (email & live-chat)

Create custom AI templates
Enterprise
For content teams & agencies of teams larger than 5 or that want custom pricing models, features & integrations to take your content creation process to the next level

Access :

Custom AI for your brand voice

Dedicated customer success manager

Teams custom roles/permissions

Advanced reports & analytics
And what are people saying about Shopia.ai? 
On TrustPilot, Shopia.ai holds an overall 4.8 rating out of 5. On Capterra, it's 4.9, and On G2 4.8.
Below, our rating table for Shopia.
Shopia.ai

Trustpilot

Trustradius

G2

Capterra

No. of Reviews

64

-

29

28

Rating

4.8 / 5

-

4.8 / 5
4.9 / 5
Average Rating: 4.8

VISIT SHOPIA AI OFFICIAL SITE
While we checked user reviews from reputable and trustworthy reviewing sites, we found that almost all of the user reviews were positive and reliable, with high ratings. 
While the free word credits that Shopia offers to users leaving a review is a big incentive, it still shows a large user appreciation for their application.
In addition to these reviews, our testing and work experience with Shopia leads us to give it an overall positive rating. 
Q: How does Shopia AI work?
A: Shopia AI uses state-of-the-art AI algorithms to analyze your content and provide real-time suggestions for improving it. You can also use Shopia AI to generate high-quality articles, product descriptions, SEO metadata, and other content that will help drive sales and boost your website's search engine rankings.
Q: Is Shopia free to use?
A: Shopia doesn't have any Free plans, however they provide 7-day free trial. You can check it's features before you're going to buy.
Q: What kind of content can I create with Shopia AI?
A: Shopia AI can help you create a wide variety of content, including product descriptions, blog posts, landing pages, social media posts, and more. The platform is designed to be flexible and customizable, so you can tailor your content to your specific needs and goals.
Q: Do I need any special technical skills to use Shopia AI?
A: No, you don't need any special technical skills to use Shopia AI. The platform is designed to be user-friendly and intuitive, so anyone can use it to create high-quality content.
Q: Does Shopia has Promo codes?
A: Currently, Shopia doesn't have any promocode, in future if they add, we will update here, stay-tuned with our blogs!
Q: What are some of the benefits of using Shopia AI?
A: Some of the key benefits of using Shopia AI include reduced time to produce content, improved SEO rankings, higher conversion rates, increased sales, and more effective marketing campaigns. 
Q: Is my data secure with Shopia AI?
A: Yes, Shopia AI takes data security very seriously. The platform uses advanced SSL encryption and security protocols to protect your data, therefore all user data is stored securely in the cloud. 
Q: What are the best Shopia AI alternatives?
There are many AI writing assistants available on the market, and the best one may depend on factors such as your budget or use case. We compiled a list of the best AI writing assistants here.
So, let's get to the climax. We understand that you're looking for reliable writing tools to create unique and engaging content.
In our opinion, Shopia AI is a tool that is definitely worth trying out. Its AI-generated articles are well-written, original and can save a lot of time.
Also, their article rewriter feature is also helpful in creating new and unique content from existing articles.
The cluster feature is excellent for overcoming writer's block and generating ideas for new content.
Across-the-board, Shopia AI is a versatile tool that offers various features to aid with content creation, some of them not being available in any other AI writing tool that we revied, such as article type selection.
Therefore, we highly recommend giving it a try. Afterall, Sophia also provides a 7 days free trial and up to 300,000 words in credit via completed rewards.
However, it's important to remember that while AI-generated content can be useful, it may not fully replace human creativity and accuracy. Reviewing and editing the generated content before publishing it is still essential.
Recently, Google has updated its content policy and is cracking down on low-quality and spammy content. Therefore, ensuring that your content meets high standards is crucial, regardless of whether you use AI tools or a human writer. The key is to create content from a "people-first" perspective.
We give a BIG, FAT, YES! to Shopia. Meet you all in a new and exciting review, until that stay tuned and peace out!