There's no denying that social media usage continues to rise. People are spending more time using social media year by year. Social Media is a daily part of everyone's life and deeply integrated in our social dynamics.
According to a report from Shareaholic, social media use increased at least by 10% every  from 2015 to 2022. (Yet analysts say this is a conservative estimate.)
But how much of this trend is attributed to the rise of mobile devices? Because with the increasing mobile usage worldwide, and therefore the possibility to access quickly, anytime and anywhere your favorite Social Media, the social media growth comes with no surprise, when looking at the growth of mobile usage.
In fact, it's been declared that in 2019, mobile users accounted for 67% of the total social media audience (Facebook, Twitter, YouTube, Instragram), and this year, in 2022, they account for 74% of the total audience.
The average person spends over 3 hours a day on social media, and it's projected that the time will continue to rise.
Add a header to begin generating the table of contents
Social media usage statistics
Nearly

21 billion new posts

are made every day.

According to the United Nations, social media is used by

more than 60% of the world's population

.

According to the company,

Instagram

has more than

1 billion monthly active

users.

Since

YouTube

has over

1.5 billion monthly active users

, the site has risen to become the

second most popular search engine

behind Google.
More than 1.5 billion people worldwide have some form of disability. Another 3.6 billion people have some form of visual impairment, which means that access to social media is vital for people with disabilities and their loved ones.
Demand for Video Content is Increasing
Experts projected that the number of people watching digital videos in the United States would increase by only a few million each year (Business Insider, 2020).
But according to data, there were 1.7 trillion video views online in the United States in 2019. And in 2022, 248.9 billion hours of video were watched online in the United States. 
And in the upcoming year, a 13% increase from the previous year is expected. As video becomes more popular and accessible, we can expect an upward trend in the number of people watching videos online. 
So, it's time (and definitely not too late) to start creating videos. Video footage is more in demand than ever before, and next year it will be even more.
Video as a Powerful Marketing Tool
Video data can be used for more than just entertainment purposes. More research shows that video content is a great way to increase brand awareness or to educate.
According to the United States Interactive Advertising Bureau's (IAB) 2018 State of the Media Report, a video is valuable for businesses. It estimated that more than 200 million Americans watched 4.5 hours of video per day in 2017. 
This makes the video by far the most widely used medium on the planet. 
Video content is currently being consumed more and more by users, and as a result also used more and more by companies to increase awareness of their brands.
When it comes to promoting your business online, according to studies, video is the most efficient and engaging way to do it. 
The more videos your business produces, the easier it will reach the desired audience and find new leads.
There is no doubt that video marketing is a powerful marketing tool that can help drive sales.
Digital Video Ad Spend increased by 49% in 2021, compared to previous year, and is expected to Reach around $50 Billion by the end of year 2022 (IAB, 2022 Outlook Report).
The video is a great way to communicate with your audience, and it can also be used as a tool to get feedback from the audience. 
But what makes video marketing so effective – and the reason behind the increase in Ad Spend – is the ROI, which can reach up to 800%, and it has been proven to be effective both with content creation and paid advertising.
And today, we will see Instagram and YouTube usage Statistics in detail; don't skip it or else you will miss crucial facts and information for your research and business!
So, let's start the geeky information-grabbing party!
As a mobile messaging and social media platform, Instagram is a great place to engage with your audience.
Whether it's through photos or videos, it is a great way to deliver your message and reach a lot of people.
It also boasts a high engagement rate. You can use this data to strategize and plan your content.
However, Instagram statistics alone cannot tell you much about your audience.
Remember to use analytics tools to understand your target audience better. Using the right analytics tool can give you insights into your audience, which can help you create relevant content, and we will also discuss this at the end of the article.
Now, let's have a quick glance to some impressive Instagram statistics, which show us the amazing potential growing year by year and for the year to come.
Instagram will reach over

1 billion monthly active

users in 2022. In 2020, Instagram had the highest growth rate of any social media platform, with

daily user growth of over 20 million

.

Instagram was the

third most used social media platform

by the end of 2021, with a

12% year-over-year

increase in daily users.

Instagram

will grow its monthly active users to over 1 billion by the end of 2022

, an increase of over 24 million year-over-year; on Instagram,

brands spent the most on social media video advertising

in 2021, with a

$1.1 billion on Instagram video advertising

, an increase of over

22%

from the previous year.
Instagram Statistics By Age
More than half of Instagram users (

44%

) are between

18 and 24

years old.

Twenty-nine percent (

29%

) of Instagram users are between

25 and 34

years old.

3.5%

of Instagram users are between

35 and 44

years old.

Instagram users between the ages of

45 and 54

make up

2.4%

of users.

54 to 65 years old:

only

1.9%

of Instagram users are in this age group.

1.1%

of Instagram users are

65 and older.
These statistics show us that Instagram audience is young, with 3/4 of users being 34 years old or younger.
This explains why year by year we assist to continuous growth, as new generations are joining the online and social media world.

Instagram trend is to grow year after year, which makes it an amazing advertising opportunity – and it's never too late to jump in the train.
Instagram users by country
India has more than 33.8 million Instagram users who are active daily. (Instagram has

214 million monthly active users from India

.)

According to the company, in the United States, Instagram has 15.7 million active users. (

In the United States, 140 million people use Instagram monthly

.)

In Indonesia, there are 6.4 million Instagram users who are active daily. (

In Indonesia, there are 118 million monthly active users

.)

In Brazil, there are 4.7 million Instagram users who are active daily. (In Brazil, there are currently 91 million people who use Instagram every month.)

In Mexico, there are 4.3 million Instagram users who are active on the platform. (In Mexico, Instagram is used by 80 million people every month.)

In the Philippines, there are 4.1 million Instagram users who are active daily. (Instagram has 72 million monthly active users in the Philippines.)

Vietnam has 3.8 million daily active Instagram users. (In Vietnam, the largest and most populous country, Instagram has 59 million monthly active users.)
Instagram Statistics By Gender
Males account for 49.1% of Instagram users, meaning that 50.9 percent of Instagram's users are women.
Instagram usage by device
Instagram is used by 

27.1%

 of all Internet users, including desktop and mobile users.

Only

6.7%

of Instagram users use the site on a

computer

.

66.2% of Instagram users are mobile-only users.
Instagram - Daily Usage Statistics
Around

500 million Instagram users

interact with Instagram

Stories

daily.

Instagram Stories are shared by

40% of users

every day.

59% of Instagram users

access the service on a daily basis.

Every day,

200 million

people visit business Instagram profiles.

Instagram is used daily by

11.01%

of the world's

4.54 billion

internet users.

Instagram is used daily by

11.96%

of the world's

4.18 billion

active internet users.
Instagram Marketing Statistics
Advertisements on Instagram can reach

849.3 million users

.

Instagram's advertising platform is used by

38% of marketers

.

Instagram advertising can persuade people to take action.

As part of the Instagram advertising strategy,

91% of luxury firms collaborate

with an Instagram influencer.

For marketers, Instagram is the

third most important social media network

for which to invest time and money.

The

US advertising

industry spends

31%

of its total advertising expenses on Instagram Stories.
If you've ever wondered where the video content is all going, you may be interested in YouTube statistics. 
But YouTube is not just about videos. It is also the second-largest search engine in the world and it boasts over 2 billion monthly active users, and it's becoming a go-to solution for both celebrities and businesses.
But despite its huge size, it is still largely untapped, so it is worth looking into for some insight. But how do you get those YouTube stats?
YouTube's recent growth has prompted many to wonder if the company is going to stay that way. The answer is, of course, yes. As we just mentioned, YouTube is the second-largest search engine globally after Google, which commands 75% of the market and processes 3.5 billion searches each day. 
Another reason why YouTube will keep growing year by year, is the same as the one mentioned for Instagram. With new generations connecting to the online world, established platforms such as YouTube will constantly benefit from new, young users embarking to the online world.
Also, according to a report published by Statista, YouTube has 60 billion video views each month. YouTube's content tends to be long-tail, with limited benefits from compression and caching. As such, video streaming applications will require a software-defined wide area network, such as SD-WAN. That way, YouTube can continue to meet the ever-growing demand for bandwidth. And with its recent acquisition of Snap, Google has taken steps to keep pace with YouTube's growth. So even resource-wise, YouTube will be able to keep up to the demand.
Lastly, YouTube's users are truly global. The top-performing countries and more audience related stats are shown below. 
India leads the way in terms of total usage

, but

U.S. users account for a greater share of adult users

. 

YouTube is also localized

in over 100 countries.

The website supports

80 different languages

. This has made YouTube a global phenomenon, allowing the service to reach new countries very quickly. 

It is the

second-largest search engine in 2022,

fueled by the sheer popularity of video content.

As already mentioned, It has over

2 billion monthly active users

.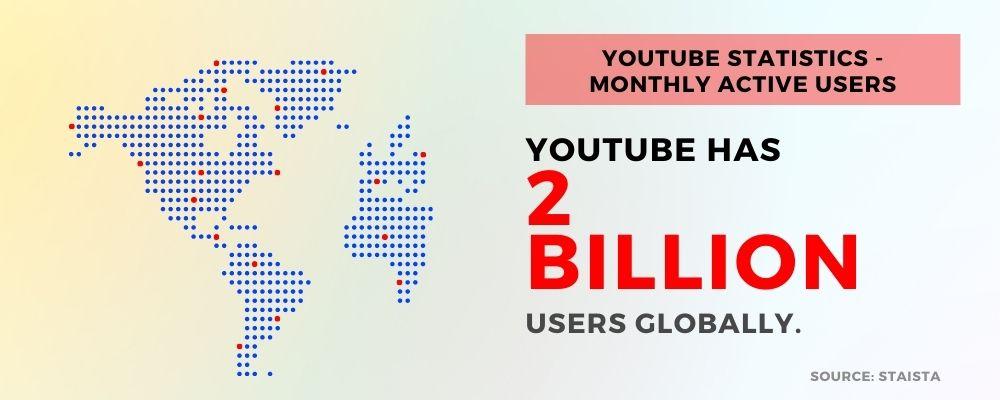 YouTube Statistics By Gender & age
Males and females make up 53.9% and 46.1%  of the site's users' demographics on YouTube, respectively.
India

 has the 

first YouTube viewership

 in the world, according to YouTube statistics.

The United States has the largest number of YouTube subscribers. Nearly

78% people in the United States regularly watch YouTube videos

.

Indonesia 

has the

second most YouTube users

after the United States.

Brazil

has the

fourth-largest

YouTube audience.

The YouTube audience in the

Russia is the fifth-largest

in the world.

Japan has the sixth-largest YouTube audience in the world.

More than

92.5 million people in the United States are active YouTube subscribers

, or about

24.7%

of the total YouTube audience.

A whopping

1.9 million new users join YouTube each month in the United States,

making it the

fastest-growing country

globally.
These statistics prove us how YouTube is a great platform for targeting native English people, having, in the top 5 countries with most active users, 3 out of 5 being countries speaking English as their native language. (USA, Canada, UK).
On top of that, the same countries – led by the United States – are having the strongest yearly growth – making YouTube the perfect place for targeting native English and tier 1 users.
Which social media platform should digital marketers focus on in 2022, Instagram or Youtube?
That's what this post is about: finding an answer. We take a look at the latest data from both platforms before drawing a conclusion.
Instagram and YouTube have a large number of active users. As of January 2022, Instagram had 2 billion active users, and YouTube had 2.6 billion active users. 
Because of its easier to reach user base, Instagram has an advantage over YouTube, as on average, because on average, a user interacts with more pieces of content per day than on YouTube.
However, when it comes to percentage-based user interaction (engagement rate), YouTube significantly outperforms Instagram. Brands on Instagram have an average interaction rate of 0.84%. Brands on YouTube have an average interaction rate of 4.17%. 
A YouTube video is 4 times more likely to be shared than an Instagram photo. To increase your brand's visibility and interaction, you should use YouTube.
However, what if you want to maximize your brand's visibility? Which is best?
Instagram comes into play in this situation. Instagram's mobile first nature is one of its most appealing features. Also, on Instagram, on average, is easier to reach more people due to the fact that active users interact with a much larger quantity of content compared to YouTube. 
On the other hand, Instagram isn't the best site if you're looking to maximize your brand's engagement.
Nearly 200 million people use Instagram on a daily basis.

There are nearly 6 billion people that use YouTube on a regular basis.

YouTube is the most popular social media network in the world.

The second-highest rate of engagement is on Instagram.

Youtube is the second-most visited website globally, whereas Instagram is the third.