In recent years, the growth of social profiles has become increasingly complicated due to the restrictions placed on automatic actions such as follow/unfollow, which previously allowed to increase followers in a short time.
For this reason, many Instagram bots have fallen into disuse because, being detected by the system, they are blocked. To tackle this problem, Goso was born, a tool capable of helping you grow rapidly on social networks in an organic way.
Add a header to begin generating the table of contents
Goso is a service born in 2017 from the idea of ​​two British guys who had the goal of providing the market with a tool capable of guaranteeing rapid growth on social networks without resorting to the usual malfunctioning bots.
What differentiates them from the others is precisely the system behind them, based on artificial intelligence and operating almost as if you were performing a specific action. Let's see what I'm talking about in the packages they offer.
Services available in GoSo.io
Goso was initially born as a growth tool for Instagram, but over time, it has diversified its offer by adapting it to the main trendy social networks. To date, in fact, in addition to Instagram, there is LinkedIn and, above all, Tik Tok.
INSTAGRAM SERVICES
On Instagram, many solutions are offered to range from automatic comments based on artificial intelligence to the very common likes, but let's see them one by one in detail.
1. Goso Hypercomments
With this feature, Goso will scan your photos, store your hashtags and write comments based on your posts. The accuracy lies in the fact that these are not standard comments but actual logical sentences that you could write yourself.
The HyperComments package is available in 3 different versions: all of them include a one-month subscription, which is cancelable at any time, and the guarantee of continuous updates based on Instagram algorithms.
2. Goso Power Likes
This package allows you to receive likes from real profiles with thousands of followers on two posts a day, to make your content viral. Instagram will not be able to detect Goso's activity because every like corresponds to an accurate impression!
The PowerLikes package is available in 4 size packages, (Lite, Elite, Prime Pro), for each of which there are 3 different offers according to your needs.
3. Goso Hypergrowth
Based on an analysis of your existing followers and some targeting information set by you, the Goso team will manually select the profiles that correspond to your niche of interests and follow them, respecting the limits set by Instagram.
The HyperGrowth package is available in 4 different solutions based on the number of followers you need, from 10k for the small package to more than 50k for the large package.
4. Goso Hypervisibility
With this type of feature, you can make your content viral, whether posts or stories. The success of this feature can be intensified by the quality of what you post.
The HyperVisibility package is available in 3 different levels (Starter, Advanced, Premium). There are 3 price categories for each of them based on the number of followers you have on the profile.
5. Goso Power Views
Goso offers also Instagram video viewing packages. If you aim to get your video content into the explorer, this is the solution for you. Thanks to the higher number of views, your video can potentially become viral.
The PowerViews package is available in four price classes, (Lite, Elite, Prime, and Pro), each of which has 3 price ranges based on the number of views you receive; the more views, the higher the price.
6. Goso Instagram story views
The more story views you get on Instagram, the higher your followers' feed position will be, and the Instagram algorithm will propose your content (via Explore and hashtag) to others who may be interested in following you.
The Story Views package is currently in beta. Goso is expected to unlock it very soon; they are updating it to make it compliant with Instagram standards and fully safe for users.
7. Goso Hyperpriming
It is an original solution that increases the organic exposure of your posts to all relevant profiles based on your interests. So, in this case, you don't know the number of likes or comments first, but they depend on the Instagram algorithm.
The Hyperpriming package is available in four classes, from the starter pack to the executive and each of them has 3 different offers based on estimated actions (comments, likes, saves, etc.).
8. Goso Power Saves
The Instagram saves are an indicator of post value, whereby the Instagram algorithm decides whether to show it to other users who are not among your followers. But this service is reserved only for existing Goso customers and not for new ones. (unless you ask for access).
The Power Saves package is available in four classes, and for each of which, you can choose between three different prices based on the number of saves you want.
As you see, Goso offers a wide range of Instagram growth solutions, many of them being really unique and exclusively developed by Goso's team.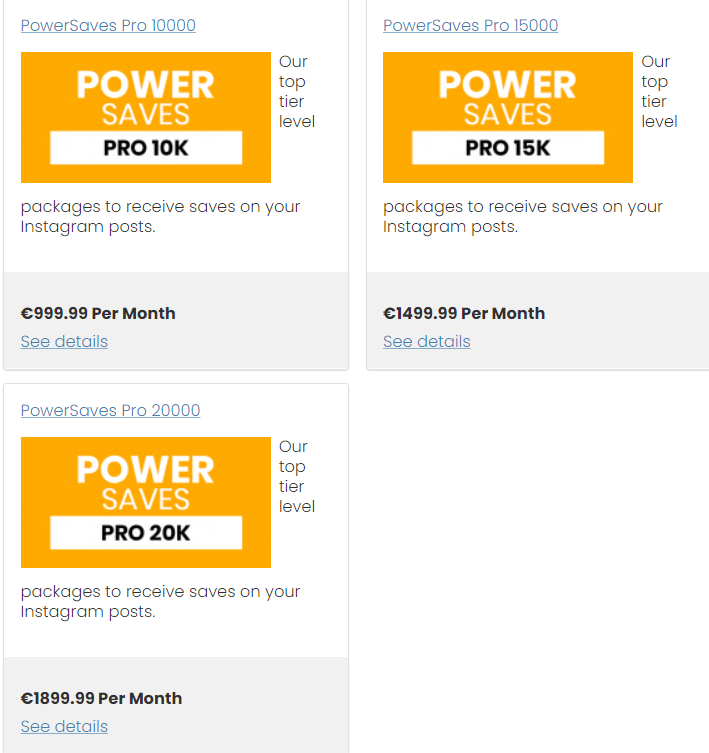 LinkedIn Services
As previously mentioned, Goso offers various social growth solutions, one of these is linked to Linkedln. This tool is suitable for anyone looking to create valuable connections and connect with the right people.
Working principle of GOSO LinkedIn
Goso uses relevant job titles, professions, places, and industries to find the right people by linking, following, and viewing their profiles.
The growth of GOSO LinkedIn is designed precisely to intercept people who are part of your niche and strengthen your profile. In this way, you will increase the number of interactions and activities, building a real business network.
LinkedIn Package
The LinkedIn package is available in 3 variants according to your needs: starter, advanced, premium. At the moment, the last of these has been suspended because it sometimes happens that they accept a maximum limit of customers in a certain period. So, check the site to see if it currently available.
TikTok services
The most popular social network of the moment could not fail to be included among the services on Goso. Unlike most bots, Goso only detects real, active followers for your profile.
Tik Tok Followers Growth
As already seen for Instagram, the targeting of new followers is based on an analysis of your existing followers combined with specific filters that you provide, through which Goso will manually select the profiles that best match.
Tik Tok Followers Package
The Tik Tok package is available in 3 versions: starter, advanced, premium. I advise you to choose the right one based on your account, so if you already have a decent following, go straight to Advanced or Premium.
To use the services offered by Goso, you must first visit the homepage of the official website. Then, you have to register by clicking on the register at the top right, as you can see in the following image.
After completing the filling of the data and confirming the registration by email, always on the homepage, you can choose between the 3 services that we have seen before: Instagram, Linked In, and TikTok.
At this point, you just have to buy the package of your interest. Once you have selected the social network and the type of service you want, click on the "View Price and Purchase" button.
Once clicked, you will be redirected to the purchase page, where you must enter the required data. In this case, You need to select the category, means the sercvice you are looking for, your username on Linkedin, the link for the Linkedin Post , and the target location. For Example, if you selected the Hyper comment for Linkedin it will looks like below,
At this point, all you have to do is scroll down and click on "Quick order" to proceed with the purchase.
Is Goso reliable, or is it a scam?
Goso is the first genuinely innovative service based on artificial intelligence that allows you to grow on social networks without having to incur on incorrect actions such as the ones from common bots, which in many cases cause temporary blocks.
This new approach makes it a valuable service that you can rely on to succeed on social media. The growth process is not automatic but organic, and this is what distinguishes it from others, and relies on artifical intelligence as a plus, and not as a pillar.
If you are still not convinced of the service, try one of the starter packages for the social network of your interest and see the results. Please note that in case you are unsatisfied, you can always request a refund.
Users review
Goso has an overall rating of 4.4 out of 5 stars, which makesproves it is an excellent service. If you want to look at the comments of customers who have used it previously, I invite you to go to the Sitejabber website.
Most people are satisfied with the customer service as if there are any problems with the packages they are quick to resolve the situation. Otherwise, you can request a refund without any issues.
Another positive aspect of Goso is the targeting precision of the social profiles that interest us. The filters by location and interests we have seen before work really well and allow you to obtain excellent results.
FAQs
What services does Goso offer?
Goso focuses exclusively on three services to make the most of its revolutionary social growth system: Instagram, Tik Tok, and Linkedln.
What is Goso?
Goso is a site that offers social media packages. For more information, see the homepage of the official website.
Is Goso reliable?
It is one of the most reliable services out there, and this is mainly due to the performance they can count on and to very efficient customer service.
Does Goso work?
Goso is 100% functional; just read the reviews on Trustpilot to understand. Their targeting system is exact and allows your profile to create a non-passive organic follower network.
How to buy followers on Goso?
Buying Instagram followers on Goso is immediate. On the homepage, click on Instagram in the top bar and choose the desired package, then HyperGrowth. You just have to select the desired level: starter, small, medium, large.
Finally, proceed to the order page as shown above.
Will I lose the followers, likes, or views I bought?
Not. Goso is based on the organic growth of social profiles, so there is a very low probability that your new followers will stop following you. It also applies to all other functions, so comments, likes, and views. They are all-natural.
Can I have problems with banning my Instagram account if I use Goso packages?
You can rest assured that this will never happen. Goso is one of the few services to constantly update their system to prevent the Instagram, Tik Tok, and Linkedln algorithms from detecting unusual activities.
So that's the wrap for today; we hope with enough of information about GoSo now, you can choose your Instagram services wisely. There are many Instagram metrics service providers in the market, if you are looking for the one, here are our suggestions,
If you're unaware of getting 100 free Instagram Followers safely, then this guide will surely help you.
In case your hunt is for Instagram followers, then how to get 100K followers guide will give you the solution.
On the other, if you look for Instagram bots, there are plenty like, Kenji AI, Instagram comment bots.
Meet you all in the next exciting review. Until that, stay tuned
Peace out!