How does Sprizzy work? What services does it make available to you? Is it worth it? In this article, you will find out everything you need to know.
Sprizzy is an excellent tool for YouTube, offering plenty of useful features for content creators of all kinds. In this review, we will see how Sprizzy exactly works, how it can help you grow your YouTube channel and the opinions of other users who use it. If you wish, you can also immediately take a look at the official website.
Add a header to begin generating the table of contents
AN INTRODUCTION TO SPRIZZY
Sprizzy is a service aimed at all video creators on YouTube, individuals or companies interested in increasing the views on their content and obtaining a progressive channel growth.
It is a family-owned US agency founded in 2016 in New Jersey. Their mission is to help YouTubers grow online by exposing their videos to new potential fans. They have already helped over 10,000 channels to reach popularity, turning small content creators into real celebrities in the fields of music, gaming, beauty, technology, and much more.
The promotional techniques that Sprizzy uses are mainly related to the use of YouTube Ads, which are a particularly effective and inexpensive method to grow a YouTube channel rapidly and most importantly, naturally.
Working Principle Of Sprizzy
Now let's see how Sprizzy works. That is, let's try to understand in practice what are the steps that you will have to follow if you decide to use its services.
Once you have registered on the site (through Google authentication), you can choose the video or videos you want to promote by inserting the link in the appropriate field.
After choosing the video, you will also need to indicate the budget you are willing to invest, the time frame during which you want the promotion to occur, and the goal you want to achieve. As a goal, you can choose to increase views, increase subscribers, increase the number of likes under that video, and much more.
The next step is targeting: you will need to indicate to Sprizzy which audience you would like to show your video to. In practice, you will have to enter one or more keywords, which will allow this platform to promote your content as effectively as possible, also taking into account the geolocation.
A few more words for selecting keywords: choose them carefully because it will be based on the video that will be promoted. By making a careful selection of these, you will have a better chance of growing your following by targeting the right audience.
Also, try to use niche generic keywords, or your video might struggle to get views fast with too specific keywords.
For instance, use "Audi Car", instead than "an Audi Car from 2009 in California"
Furthermore, you will not have problems managing several campaigns simultaneously, as, on a single screen, you will see all the information relating to your videos and the possibility of creating new ones.
Now let's check Sprizzy's tariff plan and the payment methods to access the service.
The first thing to know is that there is no free version of this platform, but in any case, the first payment range is quite accessible: it starts at $50, a package that will allow you to receive more or less 2000 views.
As you raise your budget, views will increase as well. For example, investing $100 will get you between 2500 and 4444 views. Furthermore, by investing from $100 upwards, you will receive an additional bonus of 10% of the agreed views. It is essential to know that purchases can be made using a standard credit card or PayPal.
Remember that the views will not be sent to "randomly chosen" users but will be aimed at users who are already interested in the topic covered within your content, significantly increasing the chances of growth of your channel.
You can also choose which time frame to distribute these views: concentrate the entire campaign in a single day or dilute it for several days (up to 10) to obtain more gradual results.
Furthermore, as you can see in the photo above, it is possible to purchase "GiftCards," which contain packages to promote from a single video up to a maximum of 5.
The service also provides a money-back guarantee, so if it is not possible to provide the service or not achieve the promised results, you will get a refund for the money spent on the campaign.
To get a complete picture of Sprizzy, we cannot fail to give space to those who have tried this platform: in this way, we will be able to have direct feedback on the efficiency of the service offered:
Trustpilot rating is 4.5 out of 5 stars, which is very high, even if the reviews are not too many, but it is still an outstanding result. Here are some opinions of users who tell us about their experience with Sprizzy.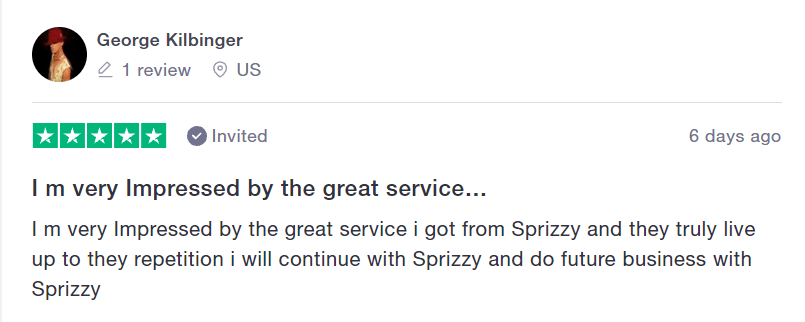 As you can see, this customer has been delighted with the service offered by Sprizzy. See more information by browsing the official Sprizzy website and read more reviews below.
Finally, We remind you that if you want to grow your YouTube channel, tools like Sprizzy will be handy, but that the real secret is always in the combination of "perseverance and dedication", other than "quality content". In the meantime, I wish you the best of luck!
Before you go, let's also cover some of the most common questions and doubts about Sprizzy.
Yes, Of course. As you can see the star rating from Trustpilot it's 4.5 which is very high and reviews are too acceptable. So without struggle you can buy sprizzy service.
Is Sprizzy safe for your channel?
Yes, Sprizzy is safe for your channel. They follow all the guidelines as it's on YouTube. So you don't need to worry about getting banded or account suspension. 
No, Sprizzy doesn't offer Free plans like others. But their pricing plans are affordable.
Are there active Sprizzy promo codes?
No, Sprizzy does not have promo code but, if you purchase quantities from $100 and upwards, you will receive an extra 10% amount of views.
What are Sprizzy alternatives and competitors?
Tube.Biz and Promolta.com are the competitors of Sprizzy. Flintzy is an alternative to Sprizzy.
So that's the wrap for today; we hope with enough of information about Sprizzy now, you can choose your YouTube services wisely. In case you're interested to learn more about Youtube services, then check here. Meet you all in the next exciting review. Until that, stay tuned 
 Peace out!