Text-to-speech programs can improve the experience of customers in different languages, by providing smooth voice recordings in a one click. This technology can help companies deliver high-quality experiences to customers at a low cost and with instant audio creation. Depending on the usage of the users, the plans might change. Hence, text-to-speech programs have also been developed to help businesses turn any type of digital content into an audiobook or multimedia experience. 
But, for TTS to be really worth it, it is important that the output audio it is unique and human sounding.
So for today, we are going to review one of them: MURF AI. 
Our team tested this program personally to know all the features and benefits available to provide genuine and valid information to you. So without delay, let's start our business! 
Add a header to begin generating the table of contents
The Murf AI voice-over tool is an online tool that lets you create ultra-realistic voice overflows from the text. It has a hand-picked voice library of 100+ professional voices in 20 languages. These voices can fit different purposes, from e-Learning to YouTube to podcasts and commercialization. You can use it to create audiobooks, video games, and even product videos.
This voice-over service is easy to use and comes with a free trial.
This AI voiceover software was developed by a company called Murf in 2020. It offers a web based tool that turns your voice recordings into studio-quality AI text-to-speech transcripts.
The software is easy to navigate and allows you to match the timing of your voice to your videos (audio sync). You can even edit the speech and the voice, to make it fully unique, which is feature that not all TTS programs have.
Also, it offers multi-user access, team collaboration, and a fast support if needed.
All of the videos you make have a commercial use license attached to them.
Murf Studio is built with specific features to help you generate voiceovers and edit them in a simple way. 
This ensures that anyone can get value from the platform, even those with no voiceover experience or skills.
This is how the simple and easy to navigate dashboard looks: 
You get a seamless experience and great voice quality. You'll find a ton of great audio varieties across multiple age groups. You can also modulate the audio by modifying speech, pitch, pronunciation, etc., and you'll be able to build more realistic audio by using the appropriate dialect 
So, for instance, if you want someone to sound older or younger, you can do it here. You can also use the built-in speed adjustments and pitch shift features to make high female voices sound like low male voices and vice versa. 
You can also alter the sound quality by adding a variety of effects, such as:
Reverberation
Flanging
Phasing
Chorusing, etc.
The possibilities for creating exceptional voiceover work are endless with this software, and best of all, you'll be able to see your voice in real-time so you can make any necessary adjustments prior to rendering the final product.
Murf has a wide variety of products and features that can help you convert your text-to-audio and implement high-quality voice-overs to your projects.
Here, some of MURF features in a glance: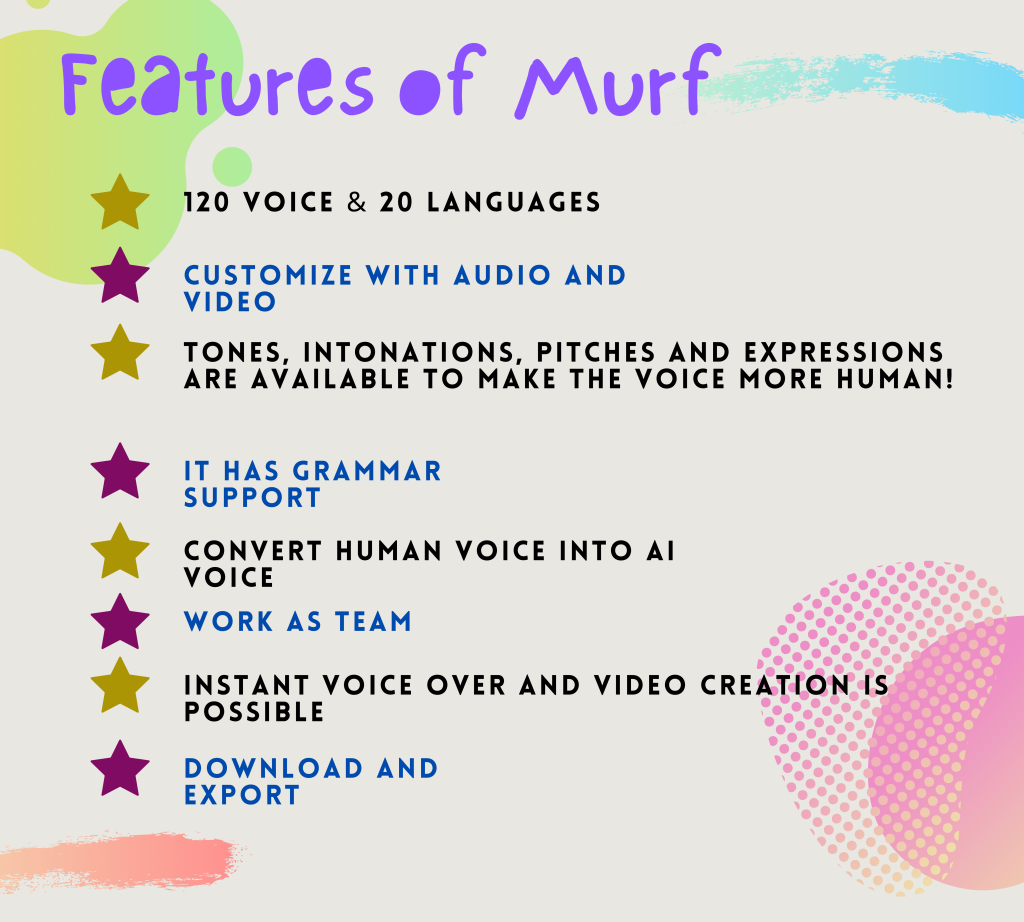 Over 120 voices & 20 languages are available for you to select from.
You can make the voice more interesting by adding a video, image, or music to it. 
The AI voice generator provides all the tones, intonations, pitches, and expressions you need to have a human sound.
Before converting the text to speech, an AI-powered grammar assistant identifies errors in the text.
Transform human voice-overs into professional AI voice-overs.
Work together on the platform with other members of the team.
No coding experience is required to use this software.
Create voice-overs and video clips extremely fast. (fast rendering)
Share the voice-overs with others by downloading and exporting them.
Unique Features of Murf AI
Compared to other AI TTS, Murf AI has notable features to flash on, and features are bulleted below,
Voice over Video
Transcription
Voice Changer
Voice over PPT
E-learning narration
Google slide Voice add-on
Let's see some of these features a bit more in detail, as they deserve some extra word.
Voice Generator (PPT, E-learning Narration, Videos, TTS)
Are you also concerned that AI voices will all sound the same and be robotic in their delivery? Well, Murf AI text-to-speech voice generator is as lifelike as it gets when it comes to text-to-speech. Several languages such as Portuguese, English, and Spanish support a variety of accents.
Before generating the voice, use Murf's grammar tool to remove any fallacies that may have occurred. You can then incorporate images, movies, and music into your project and generate any output you desire, depending on your required end result.
You may create courses in a matter of minutes rather than days. 
Check the sample Audio created via Murf Ai below,
This feature allows you to remove background noise from your voice recordings without the use of complicated 3rd party software programs.
Also, you don't have to rewrite the script or re-record the audio to have a new and unique voice, using the voice changer. Three simple steps are all that is required.
To meet your needs and preferences, you can alter the audio to create new voices.
Voice Editing
There is no need to repeatedly listen to the same piece of audio in order to edit and smooth it. AI technology has made voice editing a breeze, allowing you to get high-quality results in only a few minutes.
Also, with audio editing, you only require a few clicks to change the audio file's size or remix different voices.
BASIC
Access to essential features & basic voices

Access to 60 basic voices

24 hours of Voice generation per user/year

8000+ licensed soundtracks
PRO
Best plan to create high-quality voiceovers

Access to all 120+ voices

All 20+ Languages & Accents

48 hours of voice generation per user/year

24 hours of transcription per user/year

8000+ licensed soundtracks
Enterprise
For Customization & Unlimited Access

Unlimited Voice generation, Transcription & Storage

Collaboration & Access Control

Dedicated Account Manager

Training & Onboarding Support
Murf has both monthly and yearly subscription plans. If you buy an annual plan, you will save 33%. Of course, as mentioned before, it has a free version to trial and run the features before buying it. If you then want to upgrade, it has three pricing plans and is bulleted below.
BASIC
This plan is suitable for Individuals, and it's $13 yearly and $19 monthly. Following benefits are added in this plan,
Limitless Downloads

You can avail of 2hrs or voice generation per month, which means you will get 24hrs yearly.

You can choose 10 different languages and can access 60 voices.

It includes commercial usage reports

Email and Chat support

As mentioned earlier, it's for a single user.
PRO
This plan is suitable for professionals, and it's $26 yearly and $39 monthly. Following benefits are added in this plan,
Limitless Downloads

You can avail of 8hrs of voice generation per month, which means you will get 86hrs yearly.

You can choose 20 different languages and can access around 120 voices.

It includes commercial usage reports

It's possible to record the voice and edit it

Voice changer

You can add up to three users to utilize these features as a team

Priority Support
ENTERPRISE
This plan is suitable for agencies and business, and it's $83 yearly and $125 monthly. Following benefits are added in this plan,
Customizable voice generation time

SSO

You can choose the number of users here it's not limited to three, but up to a specific number of users.

Custom transcription time

Centralized Invoices

You will get support from dedicated account managers
Now, let's have a look at what Murf customers who have purchased the premium packages have to say about it. To accomplish so, we turn to g2.com, which is one of the most prominent opinion and review websites on the internet.
Murf currently has a customer satisfaction rating of 4.6 out of 5, which indicates a moderately high level of customer satisfaction.
The following are two customer testimonials that describe their own personal experiences,
As you can see, this customer is pleased with the pricing arrangements.
Instead, in this evaluation, the ease with which E-learning voice-overs are made is appreciated as a positive feature.
Don't you have a voice-over reader? You don't want to pay a professional voice-over artist, pr wait a few days for the recording to be delivered? No problem.
Creating and editing voice-overs for your videos, presentations, and podcasts shouldn't be a chore. Murf is a safe place to go when it comes to these needs. If you're looking for more features other than Voice-overs then you need to check writecream now!
The AI studio is the perfect place to deliver dazzling presentations and audio in high quality when it comes to reaching your intended audience. Customers will be able to recognize your brand by the sound of your voice.
Is Murf AI Legit?
Yes, Murf AI is legit. Using Murf AI's text-to-speech engine, you can produce natural-sounding voiceovers in just a few minutes.
What are the Top 5 Alternatives for Murf AI?
These are the best alternatives for Murf AI,
Descript.
Audacity.
Adobe Audition.
GarageBand.
Synthesia.
Is Murf AI free?
Yes, it has a free plan. You would get 10 mins of voice over render time free in your account to test voices and other features in the Studio.
Does Murf AI offer guides, tutorials and or customer support?
Yes, Murf AI offer guides, tutorials and customer support to both paying and free customers.
Does Murf AI integrate with any other apps?
Yes, It can be integrated with other apps such as Google Slides.
What are some applications Murf AI is commonly used in tandem with?
Murf can be used for any purpose, but is particularly appreciated for business purposes such as e-learning and explainer videos. It is commonly used also for YouTube videos, due to its highly human sound.
Who are the main purposes of Murf AI?
Most common purposes include eLearning (Authoring, LMS, etc), Youtube, Podcasts, Software & App demo's, Marketing & advertising campaigns, Audiobooks, Video games, Product & explainer videos, Corporate learning.