You are wondering how Jimdo Website Builder works? Or do you have doubts about the other tools offered by this service rather than the tariff plans?  You are in the right place!
The market is full of platforms that aim to help you build websites even if you are a beginner and don't know where to put your hands. But not all of these have proved reliable and, above all, effective in their intent.
Here we will review one of the most interesting; Jimdo will analyze in detail how it works, what features it offers, how much it costs and what customers who have already tried it think about it.
Add a header to begin generating the table of contents
Jimdo is a service that has its primary objective to assist you in creating your website, even if you do not know anything about programming or web design.
In this sense, through this platform, you will be able to carry out online projects, including e-commerce, thanks to the convenient integration with the payment systems that Jimdo uses.
In addition to this, you will have the opportunity to purchase a custom domain and create a logo for free. Thanks to a dedicated tool. Furthermore, Jimdo provides a professional webmail service, through which you can manage your electronic correspondence quickly and easily.
All services are accompanied by a state-of-the-art assistance service, which will help you in case of problems or doubts of any kind.
To conclude this introduction, some of Jimdo's tools or pricing plans, which we will discuss in more detail in a dedicated section of this article, are completely free, one more reason to try the platform.
Jimdo: The Complete Guide To Building Your Website.
After a proper introduction, let's analyze each of Jimdo's leading products in this section to give you a more concrete idea of ​​how it works and, above all, what you can do with it.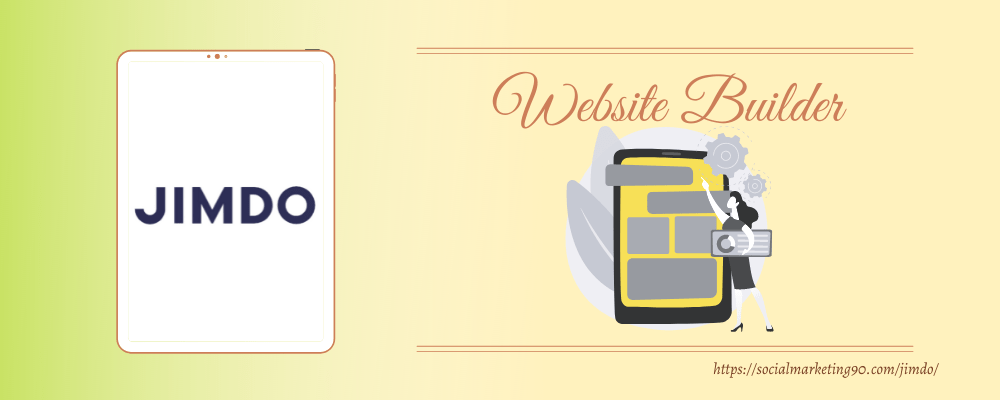 Let's start with what the primary Jimdo tool or the website builder is. As previously mentioned, it allows you to build websites even if you don't know anything about this world.
The procedure for getting the job done is effortless and will allow you to build your site pretty quickly. It consists of five main steps:
Create a free Jimdo account. 
Answer the questions that asked to you through the wizard about your project and your business;
Choose from the different designs and templates available. As texts and images, you can use those you already have or some provided by the Jimdo.
Take care of the details to provide the final touches to your project;
Publish your website!
As you can see, the procedure is relatively fast and effortless. However, note that you can also modify your project later if you want to make changes.
As we will see in more detail in the section dedicated to tariff plans, already from the free plan, you will be entitled to the hosting service and a subdomain, so your site will be ready to be visible online.
Jimdo has the great advantage of presenting solutions dedicated to e-commerce or those sites intended to sell products and services online. In this sense, it provides personalized tariff plans according to your needs.
It is good to clarify the fact that Jimdo will not directly ask you for commissions on sales. Instead, these will be applied by the payment portals you use, such as PayPal or Stripe (the latter is used for credit card payments).
It is also possible to set up discount coupons for customers to introduce promotions to increase sales, according to the rules of good marketing.
All the pages created will comply with the GDPR, the current legislation on the sale of products online so that you will have no problems in this regard.
For all the additional details on creating an online shop with Jimdo, consult the official website.
We have already said that with Jimdo's basic plan, the free one, you are provided with a subdomain that you can use to host your site online.
But what if you need a custom domain instead?
No problem! With Jimdo, you can proceed with purchasing this domain or, if you have already done so, make the migration quickly and easily.
We remind you that the sites created through Jimdo will have included hosting, the webspace where all the site's contents are stored. In addition, the HTTPS certificate is also included, which is necessary to allow safe browsing.
The logo maker completes the suite of tools that Jimdo is equipped with. As the name suggests, this tool allows you to create the logo, symbol of your online project or your business in general.
Not everyone is born a designer, and hiring one can often be expensive, especially if you are a beginner and do not have a sufficient budget.
Jimdo allows you to save on all this, thanks to its convenient and attractive logo maker. Its use is very simple and, above all, free.
Just choose from one of the many templates available, enter the text you want to be displayed, and set the colors of your logo! Each element can be customized in detail according to your needs until you are completely satisfied with the final result.
Jimdo's Price and Tariff Plans
This Jimdo review couldn't help but deal with the available pricing plans and pricing. In this sense, there are four related to the website builder, summarized in the following image:
Growth
For your business Website
All START features, plus:

Search Engine Optimization (SEO)

Personalized support within 4 hours
Start
For your personal website
All START features, plus:
Let's go to provide some more details about them:
Play: This is Jimdo's basic plan, available completely free of charge. You will get all the basic features available on Jimdo plus, Jimdosite.com Sub-domain.
Start: For 9 dollar per month, you will get Domain hosting plus Ad-free layouts. 
Grow: For 14 dollar per month, you will get a hosting plan including SEO support, Analytics (Visitor Startistics) and Personalized support within 4 hours.
Aside from these, a couple of tariff plans are dedicated to e-commerce, with features devoted to the sale of products online. They are essentially distinguished by the maximum number of pages allowed for the creation of the online shop. 
Opinions and Reviews on Jimdo
But let's see the opinions of those who have already used the service. On TrustPilot, the international review site, Jimdo has an overall rating of 4 out of 5, proving its quality.
Customers were delighted with the promptness of customer assistance, which quickly solved even problems that were not precisely simple. I remind you that the basic plan is completely free, so you can try it without paying a cent by creating an account on the official website.
Can I use a custom domain with Jimdo?
Surely. In this sense, you have two ways: the first is to buy the domain directly from Jimdo, while the second is to migrate it from another provider if you have already purchased it previously.
I have already registered a domain elsewhere. Can I link it to my new Jimdo site?
Surely. Jimdo allows you to migrate your domain quickly and associate it with one of the premium hosting plans.
Is a hosting service also included?
All of Jimdo's pricing plans include hosting, which will perform better in the case of paid plans.
Are Jimdo-powered sites SEO-friendly?
Surely. The sites created through Jimdo are set up to be SEO friendly, allowing their positioning on search engines.
Can I start with the free plan and then upgrade to a premium one?
Here too, the answer is yes. In this way, you will have the opportunity to try the website builder for free and then purchase a premium plan if you are satisfied with the final result.
If you have any more question, let us know in the comments section! 
Support
Premium Support available
98%
With Jimdo, the company's mission is to make website development more accessible to the public, allowing anyone to express their interests and passions through the internet.
There's no doubt that their free plan achieves this purpose; it's a generous offer that makes it possible for anyone to promptly and easily establish a web presence. Jimdo is a wonderful solution for anyone who wants to develop a simple website from scratch and without a lot of trouble and thought.
In case you're a WordPress lover and to build an affordable website, this website builder may not be your key card. However, like Jimdo, there are many other website builders are available, like WebWave, Storipress, and many AI Website builders to fulfill your needs in a second.