When you decide to start a new business, it is always good to do it in the best way, using all the tools available to make the quality of work as high as possible. It allows you, among other things, to stand out among the competition, eventually succeeding in the intents that you set your mind to.
And, in particular, when you decide to open a YouTube channel, you cannot fail to take advantage of the services that TubeBuddy offers, which exponentially increase our chances of success on the red and white platform.
In this article, we will see what Tube Buddy is, what its functions are, the advantages that come from its use, so that you have complete knowledge of this tool. We will also include the price, and reviews and opinions of those who have already used it so that you will know everything about this tool and decide if you wanna buy it, or not.
But, let's also not forget that TubeBuddy has a free version and a free trial, so after reading our lovely article, you might wanna give it a try anyway!
Add a header to begin generating the table of contents
TubeBuddy is a real YouTube enhancer. In practice, it is a browser extension that will allow you to grow your channel faster (when used at its best).
Every single aspect of your production will be taken into consideration, including promotion. Furthermore, to access its functions, you will not have to open another window. In fact, you will find TubeBuddy already incorporated into your channel, so to use it, you just need to log in to YouTube, as you always already do.
The main and most modern browsers support the tubebuddy extension: you can use TubeBuddy with Chrome, Firefox, and Safari without encountering any compatibility problems or issues with the performance of your computer, whether it is a desktop, a laptop, or a tablet.
Furthermore, the price is very attractive. It is divided into different layers, starting from a free mode, which allows you to use the basic versions up to the premium ones that will gradually increase the tools and possibilities at your disposal.
Now let's see precisely how Tube Buddy is structured; what are the tools you can use to maximize the performance of your channel, obtaining views and an economic return through an improvement in the quantity and quality of your content.
Its interface is very intuitive, and from the first use, you will immediately become familiar with this tool. All aspects of your channel will be enhanced, giving you more detailed insights about your channel and videos.
But let's look at some of the best things that TubeBuddy offers, one by one.
First of all, TubeBuddy allows you to create your video content attractively. From the title to the description and the possible translations to the aspects related to monetization.
You will also have the possibility to select, through TubeBuddy, the tags to be included in your videos; the tool, thanks to artificial intelligence and analysis of related trending videos, will suggest the most suitable keywords and show the most viral videos of the moment.
The publication times of all your videos will be analyzed to identify what time your audience is most likely to follow you and, therefore, immediately collect a good amount of views and increase the "views velocity", an important ranking metric on YouTube.
You will always have under control the comments related to your videos and immediate feedback from those who follow your production. 
In addition, an app version for mobile phones is also available, so you can manage your channel even when you are not at home, with an innovative studio with many features.
Another valid function of TubeBuddy is to be able to take advantage of SEO tools for the creation of your videos. This way, you will always be able to create content at the top of the request rankings from all other users. This is very important as it will not waste energy on products and videos that the public may not require, or be interested in.
These are just some of the functions you can use, many of which are already available with the basic version and therefore can be used from the first access. On the net, you will find several TubeBuddy tutorials in which many other details are displayed. Below I leave one from, neverthless, the official TubeBuddy YouTube channel, where you can find both TubeBuddy tutorials and generic YouTube growth tips.
Now let's analyze the prices of this tool linked to the different featires included in the offer, so you can decide which option is best suited to your needs.
Let's start by saying that, usually, many apps and services offer a wide range of services that with the basic version, you would be denied, which also applies to TubeBuddy.
Furthermore, we must not see the payment of a sum or a scam, but, as indeed it is, the right price to pay for an efficient service, from all points of view.
Pro
For those starting their YouTube Journey and wanting to get access to new tools for growth

Have less than 1,000 subscribers? Use RisingStarBuddy coupon on the checkout page to get 50% off
Legend
For creators looking for the maximum competitive edge for making data driven decisions and expanding their reach
Star
For content creators looking to achieve maximum efficiency and time savings
Enterprise
Bundle
Pricing
For brands looking to grow their channels with UNLIMITED TubeBuddy tools. Rank faster on YouTube, save time and money, get expedited customer service, and more.
The payment ranges of Tube Buddy are three:
Pro: Just $3.50 per month. The package already includes the most basic functions for the best management of your channels, such as the option to search for the best tags and keywords;
Star: $11.50 each month. This mode is chosen most often as the relationship between the price and the available functions is very convenient. Compared to the basic version, you will have the possibility to program your videos, use pre-compiled and effective-proof templates for your channel, and tools for monetization;
Legend: For $26.50, you will get all the functions of TubeBuddy! This way, you will have a real secret weapon at your disposal that will allow you to always be one step ahead of your competitors. You will have all the tools included in the Pro and Star plans, plus competitor analysis, the ability to perform A/B tests, and advanced retention analysis.
But what's more important is that TubeBuddy has a free version where you can try the software without spending a single penny. Access the TubeBuddy free trial now, by clicking below!vb
But to get a complete picture of TubeBuddy, we cannot fail to give space to all those who have tried this browser extension. So let's see some opinions and reviews on TubeBuddy: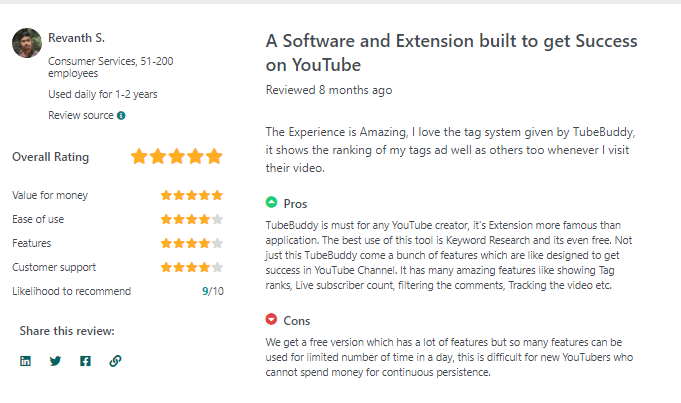 Now let's take some space to compare TubeBuddy with its direct competitor. I'm talking about VidIQ, which is a browser extension just like TubeBuddy.
We must start by saying that both are great tools for the care and growth of your YouTube channel. But what are the points in common, and what are the characteristics that differentiate them? Before that you can also check the VidIQ complete review here.
Let's start by saying that TubeBuddy does not need a browser in particular to work, while in the case of VidIQ, it is necessary to have Chrome or Firefox to use it.
Both are always present in the bar at the top right of our screen, while as regards the installation, in the case of TubeBuddy, it will be enough to go to the official website, while for VidIQ, it will be necessary to go to the Chrome extensions.
In this sense, we can say that TubeBuddy is more flexible than VidIQ.
Both platforms will allow you to control your videos better, making boring content creation issues like adding titles and descriptions much easier for you.
Furthermore, both TubeBuddy and VidIQ will be very useful in finding the correct TAGs and the best keywords. And as written above, this is an essential function to choose where to direct your commitment.
Until recently, only TubeBuddy allowed you to analyze competitors' production (views, likes, etc.), but newly VidIQ has also aligned itself in this sense.
As for the price, we are more or less on the same level. Both apps have a free version, while the premium versions can be purchased for a few tens of dollars.
That's all we have time for today, but we do hope you've learned enough about Tubebuddy to make an informed decision about which YouTube service is best for you. If you want to find out more about the YouTube Premium Service, keep reading! There's no reason not to visit LenosTube. Let's all catch up in the next spectacular review. Keep checking back until then! Thank you for your time, and good luck!