An AI writing tool is not a new invention. Its existence and use can be traced back to the early 20th century. However, with the development of technology, and the sudden buzz that the AI writing tool ChatGPT created, has triggered a big boom in the popularity and usage of AI writing tools, both for personal and business use.
The ability to generate human-like responses in seconds has led some to wonder if the need for human writers is dwindling!
As the popularity of AI writing is higher than ever before, this article is designed to provide detailed information to help you understand the rise and future of the AI writing assistant.
We made our in-depth research on the topic, to find the most relevant information and statistics about AI writing.
So, what can you expect from this article?
How AI writing tools' popularity evolved, by analyzing history and data from Google Trends and Volume search

Current usage statistics of AI writing, both across businesses and private users

A list of popular AI writers with detailed features

Perspectives of users and celebrities on AI Writers

What is Google's opinion on this?

Few case studies regarding the implementation of AI
So, without further ado, let's get straight into our discussion!
Add a header to begin generating the table of contents
How we conducted market research for AI writers (and why it's needed)
The first step in using AI writers is conducting market research. Before discussing how important it is for navigating the AI landscape, let's define what market research is.
Market research is the strategy of understanding the status of the market through studying, researching, and interpreting target audience needs, pain points, competitors, current trends, and other factors.
Now you may wonder how it's connected to writing!
Well, for creating effective content marketing strategies, even if you are using AI, you must conduct market research.
Let's learn how market research can help navigate the AI writing landscape. 
Among the wide range of AI writing tools and services, you can identify the one ideal for your content and business needs.

Market research assists in keeping up with current trends and making well-informed choices regarding writing tools and services.

All tools come with benefits and drawbacks. Identify them easily to take the most advantage of the tools.

Market research provides insight into which direction AI writing is headed, allowing businesses to plan ahead of time.
For market research, I will be using the following tools and platforms.
Google Trends

Ahrefs (keyword search)

Trustpilot

Statista

Surveys
Let's collect and analyze the data!
AI writing tools are not a new invention. Numerous writing tools have been developed over time; however, the recent buzz created with the launch of ChatGPT has made the writing AI talk of the town.
Now, thanks to the above-mentioned tools and some Google search, it's time to learn the history of the invention of AI writing tools and how they developed with time.
When were the AI writing tools first launched, and how did they evolve?


Alan Turing

published the Turing test in 1950, using a framework for testing machine language that

generates human-like responses.

 

The

FORTRAN programming language

was first used

in the 1960s

to write poems by Alison Knowles.

 

"

The Policeman's Beard is Half Constructed

" was the first book entirely written

using

AI by Chamberlain

in 1984.

 

In 2016,

Frase

was launched as one

of the best AI writers that can optimize content.

 

Forbes launched

Bertie CMS

in 2018, which is

an AI-powered in-house CMS. What makes it unique is that it can learn from the input and customize the output according to different writers.

 

In 2018, one of the biggest e-commerce giants, Alibaba, introduced its own AI tool '

Alibaba's AI writer

' that can write up to 20,000 lines of content per second.

It's especially designed for writing product listings by retailers, and it helps to scrape millions of existing human-written samples from the company database and combine them with NLP technology.

 

A generative language model,

OpenAI's GPT-1

was launched in 2018. The tool was trained on millions of Bookscorpus dataset.

 

In the same year, 2018, Jacob Devlin and his

Google AI

team developed and published

BERT

(Bidirectional Encoder Representation from Transformer), which is a pre-trained machine-learning method for NLP.

 

From 2019 to 2020,

OpenAI

developed the GPT models and launched

GPT-2

in 2019 and

GPT-3

in 2020. These are developed versions of GPT-1, and compared to it, these two were trained with millions of datasets and web pages, where they can adapt to the nature of the content, style, and tone.

 

In 2021,

Frase

launched its own writing assistant, which uses proprietary AI, not GPT-3.

 

In November 2022, OpenAI again developed

its

previous model and

launched ChatGPT which is GPT-3.5 version, it's an ideal pick for conversational AI applications

. It can write a blog post, reply to your answers, generate text, give suggestions,

and do a lot more. We can say that with the introduction of ChatGPT, made available to anyone for free, the AI writing business boom began.
Although there are other AI tools, these are the most popular ones that have been developed throughout the years. However, the actual rise of AI content creation rose after ChatGPT came into the game.
The popularity of AI content and ChatGPT over time
For a better understanding, let's check the Google Trends for ChatGPT for the past 12 months. You can see that the actual search for ChatGPT began to skyrocket from November 27, 2022.
Next, let's see the performance of the keyword 'AI content'. The graph below shows the results between November 27, 2022 and November 30, 2022. Just 4 days after the launch of ChatGPT, the search for AI content peaked on Nov 28, and it gradually coincided with the ChatGPT trendline.
For further understanding, see attached also search volume data from Ahrefs. As you see, the ChatGPT popularity is immense, with 48 million people searching on Google for ChatGPT per month, and 8 million people in the United States alone!
This also had an impact with the number of people searching for "AI content" on Google, with the global volume increasing by 100% since ChatGPT release and buzz.
Now let's check for all the possible keywords: AI writers, ChatGPT, GPT, NLP, and Machine Language. In the following graph, you can see that all the terms had the hype on Nov 29, 2022.
After analyzing all the above-mentioned data, it can be said that the launch of ChatGPT on November 27, 2022, has created a significant impact on the AI content creation landscape. 
Furthermore, the increased interest in related terms like AI writing tool, GPT, NLP, and Machine Language on November 29, 2022, indicates a broader trend toward AI-driven content generation and natural language processing technologies.
20 Best & Most Popular AI Writers
To ride the popularity wave started by ChatGPT, and the users' desire for AI writers, hundreds of AI writing tools have been launched since then.
In fact, according to our market research, we found more than 100 websites that offer AI writing tools, such as article generation, paraphraser, social media caption generation, and so on.
However, while some are great and a valid alternative to ChatGPT, many of them either have performance issues or are in the process of being improved.
Considering factors such as generation speed and language compatibility, here's a list of the top 20 AI writers along with their features, domain nature, and pricing plan, so you can understand what uses and benefits you can expect from them.
| | | | |
| --- | --- | --- | --- |
| YOU.com | $9.99/month | Enhancing SEO optimization, generating product descriptions, automating email campaigns, and creating social media posts. | Forever free (10 prompts/day), basic features |
| Bing AI | Free to Use | Analyzing and optimizing written content for readability, tone, and sentiment to improve audience engagement. | - |
| RYTR | $9/month | Generating blog, article, or essay ideas, outlines, CTAs for your ads, posts, landing pages, and more in one click. | Forever free, basic features |
| WriteSonic | $19/month | Writing SEO-optimized, long-form blog posts & articles, Quora answers, and product descriptions in seconds. | Forever free, basic features |
| Jasper | $49/month | Writing creative copy that converts into 25+ languages while creating unique images and amazing art in seconds. | 7 day Free Trial |
| Grammarly | $30/month | Real-time suggestions to help improve word choice, refine tone, make sentences clearer, and fix grammatical errors. | Forever free, basic features |
| CopyAI | $36/month | Writing a follow-up email, converting posts and blogs with an easy-to-use template and examples! | Forever free |
| Peppertype | $25/month | Content re-writing, repurposing of old content, generating SEO blogs and keyword-rich meta descriptions. | 14-day Free Trial |
| Hypotenuse AI | $29/month | Generating Instagram captions, Facebook ads, and Rewriting content. | 7-day Free Trial |
| Jarvis | $49/month | Writing high-converting copy for ads, emails, websites, listings, blogs, and more. | 7-day Free Trial |
| CopySmith | $19/month | Generating catchy headlines, slogans, taglines, product names, and more. | Forever Free, basic features |
| ContentBot | $19/month | Creating engaging content for blogs, social media, newsletters, and more. | 7-day Free Trial |
| Unbounce | $9/month | Writing persuasive sales copy, landing pages, headlines, and more. | Forever Free, basic features |
| Zyro | Free to use | Creating catchy slogans, business names, blog titles, and more. | - |
| Wordtune | $9.99/month | Rewriting sentences to make them clearer, more concise, and more creative. | Forever free, basic features |
| Content Villain | $5/month | Generating content for blogs, social media, podcasts, videos, and more. | 5 day Free Trial |
| NeuralText | $19/month | Writing SEO-friendly content, generating headlines, summarizing articles, and more. | 7 day Free Trial |
| Headlime | $59/month | Writing captivating copy for websites, ads, emails, and more. | 7 day Free Trial |
| Writecream | $29/month | Writing high-quality blog posts, ads, blog titles, and more | Forever free, basic features |
| AISEO | $19/month | SERP Analysis, Long-form blogs, Starter templates, Readability improvers, and more | 3 day Free Trial |
| Copymatic | $29/month | Writing SEO-optimized, long-form blog posts & articles, Quora answers, and product descriptions in seconds. | 7 day Free Trial |
| Nichesss | $19/month | AI-Powered Idea Generator, Marketing Copy Generator, and Long-form Autowrite | Forever free, basic features |
| Bramework | $29/month | Content re-writing, repurposing of old content, generating SEO blogs and keyword-rich meta descriptions. | 7 day Free Trial |
These AI writers/generators are free to use, and you all can play around to pick the ideal for you. There are many more out there, but still these tools attract us more because of the flexibilities these tools provide, the quality of outputs, and current popularity among users.
We have compiled this list of 20 AI writing tools based on two more factors too, which are:
Generation Speed
Languages they offer
All these tools are accessible in global languages without any struggles and are able to write AI content in seconds or minutes.
What do people think of AI writers?
Celebrities, influencers, and experts all have different opinions and perspectives on AI writing assistants and tools like ChatGPT. Some of them are positive and supportive of the technology, while others are negative and critical of it.
Here are some examples of what famous people have said about AI writing assistants:
Joe Pulizzi, founder of The Tilt and Creator Economy Expo

, said that AI writing assistants can help writers and editors focus on more strategic parts of writing.

 

Paul Roetzer, founder and CEO of Marketing AI Institute,

said that AI writing assistants can assist bloggers in planning, drafting, and editing their content, in a fraction of the time they would have traditionally spent on a post.

 

Tommy Walker, founder of The Content Studio,

said that AI writing assistants are perfectly suited for some of the shorter tasks, such as headline variations, meta descriptions, and subheader options, but they should not be used to write the majority of content without heavy editorial oversight.

 

Shane Barker

, digital marketing consultant and Forbes Coaches Council member

, said that AI writing assistants are worth using in 2022, as they can help users create content quickly, easily, and confidently.

 

Emily Dreibelbis, PCMag reviewer

, said that ChatGPT is a powerful conversational companion with great writing skills, but it only has information up to 2021 and doesn't cite its sources, which should be table stakes for any trustworthy AI tool.

 

Maurice Jakesch

, a doctoral student of information science at Cornell University

, said that writing with AI help can shift your opinions, as the AI can subtly influence your beliefs and attitudes by providing biased or persuasive suggestions.
Below, a screengrab with two more opinions about AI writers, from two content writing and marketing specialists.
Popularity and Usage of AI Writers (Statistics)
As the popularity of AI writers is at its peak now, let's study some of the AI and AI writing Statistics. Here are some statistics and facts that illustrate the popularity and growth of AI writers over time:
The global AI market value is expected to reach $267 billion by 2027, experiencing substantial growth from its estimated $86.9 billion revenue in 2023.


AI is expected to see an annual growth rate of 37.3% from 2023 to 2030, as reported by Grand View Research. This rapid growth emphasizes the increasing impact of AI technologies in the coming years.


AI adoption in education is predicted to be worth $6 billion by 2024. AI writing tools can help students and teachers with tasks such as essay writing, plagiarism checking, summarizing, and feedback.


12% of businesses use AI for content creation. AI writing tools can help businesses with tasks such as blog posts, product descriptions, social media posts, email marketing, and more.


Bloggers who use AI spend about 30% less time writing a blog post. AI writing tools can help bloggers with tasks such as generating ideas, headlines, outlines, and content.


66% of bloggers who use AI primarily create How-To content. AI writing tools can help bloggers with tasks such as providing instructions, tips, examples, and images.


36% of executives say their primary goal for incorporating AI is optimizing internal business operations. AI writing tools can help executives with tasks such as report writing, data analysis, presentation, and communication.


75% of companies plan to use AI systems to eliminate fraud. AI writing tools can help companies with tasks such as detecting fake reviews, spam, and phishing.


72% of adults in the U.S. think that AI can handle repetitive tasks. AI writing tools can help users with tasks such as filling forms, scheduling appointments, and booking tickets.
These statistics and facts show that AI and more specifically AI writers are becoming more popular and widely used across different domains and purposes, in particular in business.
AI writers can help users and brands save time, money, and effort, as well as enhance their creativity, productivity, and quality of content.
AI writers are not only a trend but a reality shaping the future of writing.
AI writing and AI writers' current popularity
Now, let's go back once again to Ahrefs, as we are going to see how the popularity of AI writers grew over time, and the current search volume.
The Ahrefs volume checker tool has been used by us to check the metrics for the keyword "AI writing".
The total volume for this keyword in the US alone is "19K," and the global volume is nearly twice the actual volume, "41K." The growth of the keyword was almost a flat line around June 2021, and now it's exponentially growing.
Using a similar keyword, "AI writer", we can see a similar pattern. 
We can also see that the keyword difficulty score is 77, which is super hard, as a proof of how popular the topic is even across webmasters and bloggers, making this keyword extremely saturated.
And the global volume is 95K. This means 95K people around the world are looking for an AI writer on Google, per month. So the rise and reach of these tools are high, and this might hit Google hard and push it to add AI content ranking in the future.
And at the same time, it explains why we found over 100 AI writing tools. The demand is huge out there!
The following images show the most popular types of AI writers that people search for, and the AI writing information they can include in their piece of content to have a chance to rank on Google.
What does Google think of AI writing?
After seeing the rising popularity of AI writers, it's worth questioning that:
Is the purpose of all these workarounds and shortcuts to rank on Google?
Of course not!
The primary goal of content is to deliver value to the readers who come to search for information on Google. So, whether you are creating content manually or with the help of AI, it should demonstrate its value to the users rather than please the search engine.
The latest update on content creation from Google reaffirms that AI-generated content can indeed rank on Google.
Now, you may have questions, such as, "is Google ranking AI written content as high as 100% human content?"
Well, it depends.
As Google mentions, they care about the value of content, and if a content is generated with the help of AI or not, it makes not big difference, as long as the piece is of high-quality and responds to the queries of the users.
The advice, based on the non-perfect output results of AI writers, is that AI written content needs human intervention. So improving the content manually and adapting that technique to satisfy Google search engine, is actually the best move. 
We have written a more detailed article about the topic, named "how does AI content rank on Google? what we know, based on facts".
To make the abovementioned statement stronger and more rigid, images with proper explanations are given below.
Case Studies: Successful AI writing integration that businesses did
So, we have talked about how popular AI writers are, how more and more businesses are relying on AI, but we have also seen the concern of many content writers and experts, as well as Google's stance on AI ranking.
So, let's talk facts and let's see some real-life case study, where businesses and brands implemented (successfully) AI writing in their business model.
We selected two of them.
Case Study – How AI-Generated Content Boosted the Website Traffic to 750K/Month in 12 Months!
Single Grain is a digital marketing agency that recently published a blog post about "How AI-Generated Content Boosted Website Traffic to 750K/Mo" .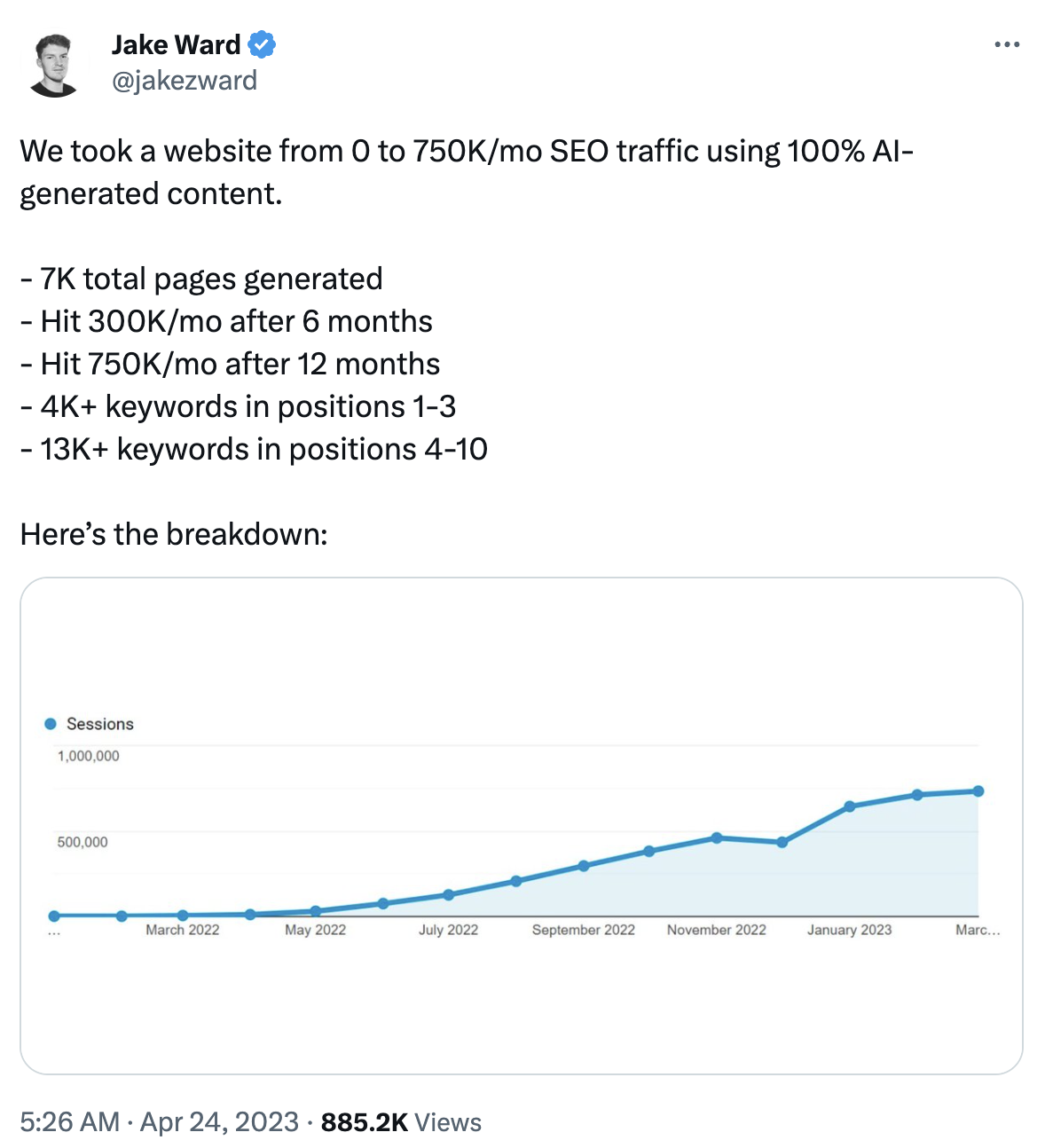 Jake Ward was the person who conducted this case study and added all the findings in this blog.
According to this case study, the main tool they used was Byword.ai AI writer for this entire study. Here are their statistics after using AI writer:
7,000 total pages generated
300K monthly visitors a month after six months
750K monthly visitors after 12 months
4,000 keywords ranking in positions 1-3
13,000 keywords ranking in positions 4-10
They followed a consistent content generation process, proper reviewing and SEO standards as their daily activities. Although Jake started with GPT-3, he moved forward to GPT-3.5 and now he is using GPT-4. On the whole, even though Google recently launched some updates, this website is still live and running smoothly.
On the whole using AI writers in your business will elevate your business to next level. 
You can also check our complete blog about How Does AI Content Rank on Google for better understanding. 
Using AI writers: Tips and Best Practices
Here are some tips and best practices for using AI writing tools in your workflow:
Define your goals and expectations before using an AI writing tool:

 Question yourself, what kind of content do you want to create? Who is your target audience? What is the purpose and tone of your content? These questions will help you choose the right tool and input the best prompts for your desired output.

 

Find the right AI writing tool for your needs:

There are many AI writing tools available in the market, each with different features and capabilities. You should compare and evaluate different tools based on factors such as ease of use, use cases, accuracy, quality, customization, and pricing.

You can check out some of the best AI writing tools in 2023 here.

 

Input excellent prompts for the AI writing tool:

The quality and accuracy of the output depend largely on the quality and specificity of the input. You should provide clear and detailed instructions for the AI writing tool, such as the topic, keywords, tone, audience, length, format, etc. You can also use examples of similar content that you like as references for the AI writing tool.

 

Review, edit, and personalize the AI-generated content:

AI writing tools are not perfect and may make mistakes or produce irrelevant or generic content. You should always review and edit the AI-generated content to ensure it meets your standards and expectations. You should also personalize the content to put it in your own voice and style, and add your own insights and opinions to make it more engaging and unique.

 

Avoid plagiarism and ethical issues when using AI as an assistant: AI writing tools are meant to help you create content faster and easier, not to replace your creativity and originality. You should not copy or use the AI-generated content without proper attribution or modification. 


You should also be aware of the ethical implications of using AI in content creation, such as the potential for bias, misinformation, or manipulation. You should always use AI writing tools responsibly and ethically.
And if despite you use AI you want to make sure that your content does not get detected as such, consider running an AI detection check. There are several AI detectors on the market you can use.
Or, use our tricks and tools to bybass AI detection in seconds, with no-need of heave human touch. Here is our guide.
Before the era of AI writers, the life of a blogger was rather time-consuming. Writing a single blog post would typically take approximately 1 to 2 days, or even more, depending on the complexity of the content. 
Fortunately, the introduction of new writing tools with unique and excellent features has helped improve the quality, accessibility, and efficiency of writers. 
Because of that, and also thanks to ChatGPT, AI writers became extremely popular, even among content writers and businesses, as we have seen in this article.
However, the fact is that AI is just a machine, and not everything it generates is necessarily accurate or entirely factual. So, proofreading and human touch are essential to elevating the quality of your writing. 
At the same time, AI writing is just one of the many great use cases of AI for businesses and creators. AI is capable of generating videos from text, music, images, text-to-speech technology, and building websites.
What are your thoughts on the growth and usage of AI writers? Do you see it as a benefit for us and for businesses? Drop your thoughts, comments, and insights below. See you next time!